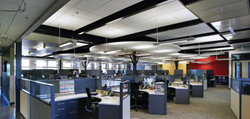 Syracuse, New York (PRWEB) July 29, 2013
The Onondaga Commons Comprehensive Expansion & Urban Revitalization Initiatives represent a continuance of a series of dynamic public/private investment projects in the southend of the Near Westside of Syracuse beginning in 1978. These projects have worked to rehabilitate abandoned and severely neglected properties, transforming them into an award winning and nationally recognized center for health and human service organizations. Over the years, many government, non-profit and for profit organizations have enjoyed tenancy at Onondaga Commons. All have provided services to neighborhood residents, employed them or both.
Current initiatives at the nearly 6-acre Onondaga Commons campus will include the redevelopment of 2 additional vacant properties into state-of-the-art sustainability demonstration projects undertaken in partnership with the Syracuse Center of Excellence in Environmental & Energy Systems, NYSERDA, National Grid, and numerous other community collaborators. Efforts currently underway include the redevelopment of 36,000 sq. ft. of existing space on site and an additional 25,000 sq. ft. under development. The campus provides abundant onsite parking for employees, visitors and clients. Potential tenants include those seeking an easily accessible central location, and 1,500 to 10,000+ sq. ft. of conventional office space. Tenants needing warehousing, assembly and distribution space or inside vehicle storage can also be accommodated. Space will be available after January, 2014.
Efforts currently underway will also include the largest privately pursued green infrastructure project under Onondaga County's groundbreaking "Save the Rain" Program, winner of the coveted U.S. Water Prize in 2013. These efforts, spearheaded by partners at SHORT ENTERPRISES in collaboration with Natural Systems Engineering, will manage between 6 and 10 million gallons of rainwater annually and propose the inclusion of a truly innovative rainwater harvesting system that will yield water for both potable and non-potable uses to a portion of the campus.
It was also recently announced that these comprehensive efforts will also be augmented with a dynamic business and innovation accelerator, an effort spearheaded by start-up SHORT ENTERPRISES, which is also serving as a lead developer on the expansion efforts currently underway at the Commons. The design is to connect entrepreneurs with opportunities, coaches, and new relationships with like minded forward thinking leaders to enhance the way we live and work. This new initiative is intended to create a long‐lasting connection with Syracuse's culturally rich and diverse urban lifestyle and provide an affordable safe work environment for promising employers of the future. Affordable office suites with shared services and live/work units for entrepreneurs in residence will be available in the spring of 2014. The new center, which was considering a number of locations for its new home, selected Onondaga Commons citing its unique location, onsite daycare, abundant parking, and easy access to the City's downtown.
The Onondaga Commons is located within the innovative SALT District of the City's Near Westside. After six years of work, a local Syracuse University driven community development corporation has made significant strides in bringing its vision to fruition in what was once the 9th poorest neighborhood in the Country. In addition, the efforts have leveraged $70 million in new capital investment, built or rehabilitated 60 homes, and attracted 337 full time jobs to a neighborhood that had seen very little investment for decades. As a result, this unique location will provide a highly livable, walkable, adaptable, and sustainable urban community within which significant growth, job creation and associated activities will thrive. These activities will build on past successes and expand the positive alliances and partnerships that precipitate some of the most creative and innovative products, companies, and solutions in the world. It is this relationship, and the open exchange of ideas, that offers opportunities at Onondaga Commons beyond those found in any other traditional location.
Onondaga Commons originally arose from the abandoned and deteriorating Kane and Roach Foundry and 5 other adjacent and abandoned structures under the visionary leadership of owner Martin A. Yenawine in 1988. The campus is home to over 400+ full time employees, the area's largest ambulance and paramedic service, a county health clinic, the area's only day care facility, and a number of other longstanding tenants providing critical services to support the impoverished Near Westside community. The Commons has received national awards from the League of Cities and National Association of Housing & Redevelopment Officials for being a remarkable example of public/private partnerships meeting diverse human services needs.