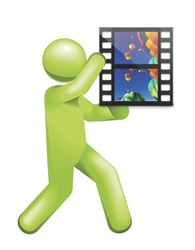 Ensemble has the power to transform the educational process in schools by ushering in a new model for teaching and learning that focuses on using video to engage, inform, and motivate students at their own pace through online learning, 24 hours a day...
Clifton Park, NY (PRWEB) July 24, 2013
Cisco projects that 833 days worth of video will cross the Internet every second in three short years. Additionally, Internet video will make up 54% of all online traffic by 2016. This surge in digital content may explain the rapid-fire growth of Annese & Associates' video content management solution, Ensemble Video, particularly across its education base in the Metro New York region.
Annese, which has been reselling the online video management platform since its inception in 2007, was also an angel investor to the Syracuse University-born software which has since risen from tech start-up to industry player in the online video platform market, reporting over 200% revenue growth since 2010 and record expansion of its customer base. The company successfully deployed its software to close to 100 new organizations in 2012, with over 200 customers in higher education institutions, K-12 school districts, consortiums, and enterprise markets.
The K-12 market is especially ripe for a product like Ensemble as it enables classrooms and districts to seamlessly implement 21st century opportunities like distance learning, blended learning, flipped learning, and mobile learning. "Ensemble Video has the power to transform the educational process in schools by ushering in a new model for teaching and learning that focuses on using video to engage, inform, and motivate students at their own pace through online learning, 24 hours a day, 7 days a week," notes Scott Nadzan, Vice President of Marketing and Sales at Ensemble.
Dutchess BOCES, Ulster BOCES, Eastern Suffolk BOCES, and Nassau BOCES are a few of Annese's most prominent Ensemble converts in the region. The Lower Hudson Regional Information Center (LHRIC) was one of the company's earliest adopters of the product and has been a strong proponent in helping like-institutions understand its appeal.
Ensemble Video enables LHRIC's teachers to create video projects so students can easily submit video projects for coursework and tell a story through video. "Kids have always wanted to tell a story. In the past they did it with crayons and paper and now they are doing it with video because it's the technology; it's a 21st century skill," said Sarah Martabano, Regional and Distance Education Coordinator at the RIC. The role of the Regional Information Center is to support districts in their use and acquisition of technology. Currently, 21 districts are signed up with Ensemble Video through the RIC.
Although free YouTube-like platforms are ideal for small-scale public sharing, they fall short for larger organizations and educational institutions that require more control and security.
"With Video becoming more prominent in all aspects of everyday life and the proliferation of technology in today's society, organizations are constantly being challenged to find new ways to help break down traditional communication boundaries," notes Andy Enright, Annese Account Manager.
"By implementing the Ensemble Video platform, our customers have enabled their organizations with a simple and cost-effective platform to share, secure, stream and archive videos with a few clicks of a mouse. We continue to see steady product sales growth throughout the region as Annese remains committed to providing our customers with innovative and cutting-edge solutions to help them remain at the forefront of modern technology."
Ensemble Video has just launched its new 3.5 version which includes features like uploading video from mobile devices, a restricted streaming module to secure content, adaptive bitrate streaming for delivery, and a YouTube feed.
About Ensemble Video
Ensemble Video is a flexible online video platform that simplifies video management and delivers content to a variety of devices, over a myriad of networks. Ensemble Video enables hundreds of progressive organizations across the globe to accelerate learning, increase viewer engagement, improve knowledge sharing, and reduce the cost of doing business. Ensemble Video offers self-hosted, cloud-hosted, and multi-tenant deployments, and works in concert with a wide range of complementary video and web technologies to streamline video management and publishing. Learn more about our platform by visiting our website and find out how our customers use our software on our blog. For a free trial or demo, contact us and begin orchestrating your online video today!
About Annese & Associates, Inc.
Expertise. Relationships. Innovation. Throughout the past four decades, these principles have established the foundation upon which Annese & Associates has emerged as the trusted adviser to our customers, partners, and communities. With a full-circle approach to integrating communications systems, Annese wraps professional and managed services around Collaboration and Data Center Virtualization solutions. Guided by our services methodology, we design an end-to-end IT experience for our clients, implementing the tools of today and administering a plan for tomorrow. Our business is the art, science, and passion of connecting devices to networks, people to people, and ideas to action.