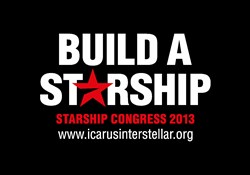 Traditionally space exploration has been funded by governments, but we're seeing new industries emerge and some of these industries have an increasing interest in the science and technology behind travel to the stars.
Dallas, TX (PRWEB) July 24, 2013
A first-time assembly of some of the planet's top stars of interstellar science is set to take place this August—largely sponsored by video game hardware, content developers. Furthermore, the mounting of Starship Congress comes about in order to discuss a matter of astronomical importance: the creation of a global interstellar space exploration initiative and the role to be played by the world's gaming community.
Organized by US-based interstellar space science non-profit Icarus Interstellar, Starship Congress is the first-ever international assemblage of interstellar space authorities and organizations. The Congress will be held August 15-18, 2013 at the Anatole Hilton in Dallas, Texas.
Scheduled to address Starship Congress is at least one space scientist with the rare claim of having already successfully launched an interstellar spacecraft: American mathematician/physicist Dr Michael Minovitch, whose crucial work on gravity-propelled space travel enabled the success of the now-interstellar Voyager space probe.
Strikingly alongside Dr Minovitch with be Dallas-based video game/science-fiction artist Stephan Martiniere, whose creative work on such video games as Rage, Stranglehold, and Myst 5 (as well as influential science-fiction films Star Wars II & III, 2009's Star Trek, TRON: Legacy, and the upcoming space travel thriller Guardians of the Galaxy) has launched tens of thousands of imagined journeys through the cosmos.
Icarus Interstellar's president Dr Richard Obousy is keenly aware of the apparent contrast. "What's particularly exciting is the emergence of new and unexpected stakeholders in the field of interstellar research and development," says Dr Obousy. "Traditionally space exploration has been funded by governments, but we're seeing new industries emerge and some of these industries have an increasing interest in the science and technology behind travel to the stars. Nowhere was this novel stakeholder emergence clearer than at EVE Online's 2013 FanFest conference in Reykjavik, Iceland, which I was privileged to be invited to present a talk on exotic propulsion. What was amazing was 3000 people coming together from all over the planet to learn about the science of space travel in order to build and play better video games. From that point I began to take the lead in bringing EVE Online on board to introduce space scientists to one of the largest volunteer research groups on the earth. And that is video gamers."
Dr Obousy continues. "What really makes this important to me is that both groups, scientists and video gamers, clearly understand what we are working has ramifications for the ultimate success of humankind. Games traditionally have been seen as nothing more than a pass-time, a way to waste an evening. But I don't believe this to be true. Billions of gaming hours are played each year and this, to me, represents a vast untapped potential waiting to be harnessed and directed. I can think of no greater direction than the pursuit of solutions that will enable interstellar flight."
Icarus Interstellar vice-president and Chairman for Research, University of Alaska's Dr Andreas Tziolas is quick to agree. "While Icarus designers are volunteers, they are volunteers who are by no means science amateurs. Similarly, gamers are well versed in volunteering research themselves in order to excel at their favorite games. Then they apply their research and learn from their mistakes as well as document their successes. That's science. It just so happens that the games they are playing are about interstellar space, including math computations, material studies, and real chemistry and biology. And the more technically valid the game is, the more credible the research becomes."
As part of Starship Congress, creative opportunities have been developed for wider engagement beyond the actual physical assembly.
"What's great about having Starship Congress in Dallas is the confluence and importance of space industry and video gaming to modern Texas culture," says Starship Congress' creative strategy director Mike Mongo. "From id Software (Dallas-based developers of Rage) to Johnson Space Center and to now Starship Congress, it is plain to see that Texas is one of the places on the planet where the future is constantly being envisioned and manufactured."
"OUYA and Unity3D came on board early on," further explains Mongo. "As a new video game system which depends on early-adopters, OUYA was a perfect fit with Starship Congress. And middleware company Unity3D is great for creative development of new games. In addition to OUYA and Unity3D, we are now in discussions with our friends at [popular gaming site] KillScreen.com. We are presently making plans for Icarus Interstellar's creative content division FarMaker to mount a game jam as a follow-up to Starship Congress."
Mongo summarizes, "Real space exploration and video games, it's like every 12-year old in the world best dreams come true. Young or old, if I am someone seriously interested in space travel, science or videogaming—and I am anywhere near Dallas this August—where I will be is at Starship Congress."
—
Starship Congress is the first-ever assemblage of international interstellar proponents and advocacy groups united in the common goal of interstellar accomplishment. By combining presentation, discussion, and decision, Starship Congress aims to engender and reach consensus of actionable items throughout the interstellar community. As an event, Starship Congress is open to all parties yet reserves vote in actual Congress session for member organizations and individuals of Icarus Interstellar. For registration, visit http://www.icarusinterstellar.org/congress-registration.
Icarus Interstellar. Founded in 2009, Icarus Interstellar stands out from nearly all other space science organizations dedicated to promoting the goal of interstellar exploration in that: the aim of Icarus Interstellar is to foster the science, technology, engineering, arts, and mathematics (STEAM) necessary to Build a Starship. Icarus Interstellar is a US-based 501c3 science not-for-profit registered in the state of Alaska.
Registration for Starship Congress:
http://www.icarusinterstellar.org/congress-registration/
For more information,
contact Mike Mongo at starshipcongress(at)icarusinterstellar(dot)org
or @starshipcongrss (twitter)
or visit starshipcongress.org.
# # #