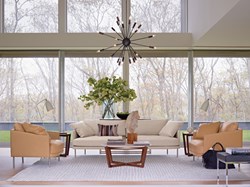 Stamford, CT (PRWEB) July 25, 2013
Design Within Reach, Inc., today announces the launch of DWR Textiles, a proprietary offering of textiles created with trusted partners in Italy and New York and offered across most of its in-stock upholstery collections. The nine new textiles are available in 42 colorways and range in composition from sturdy cotton to luxurious velvet and handsome alpaca wool. Simultaneously, the company will launch three new upholstered collections manufactured in the U.S.A.
For its new upholstery program, DWR went straight to two sources of the world's finest textiles, working closely with one of the largest and most widely respected mills in Italy and Maharam Design Studio in New York. For nearly 60 years, the family-run Italian mill has been producing exceptional textiles by blending design, research, cutting-edge technologies and artisanal techniques. Maharam Design Studio was founded by Louis Maharam in 1902 and has been producing fabrics loved by DWR customers for many years.
Coinciding with the launch of DWR Textiles, the Company also introduces three American-made upholstery collections. From Jeffrey Bernett and Nicholas Dodziuk – two designers who have been working with Design Within Reach since 2005 – the hand-built Camber Sofa Collection maximizes comfort within slender proportions. Also by Bernett, Dodziuk and their colleague Piotr Woronkowicz, the Parallel Bedroom Collection comprises an upholstered bedframe in fabric or leather and corresponding bedside tables, under-bed storage and casegoods in walnut or oak.
Additionally, DWR continues its work with designers and their families to reintroduce existing designs such as Milo Baughman's Goodland Collection, created in 1968 for Thayer Coggin. Named for the Kansas town where he was born, Milo Baughman's Goodland began as a sofa designed for his own home – his daughter still has the original – which he later expanded upon and launched for retail customers.
"We are offering our customers a new proposition: U.S. designers, U.S. manufacturing and the finest Italian textiles," says VP of Merchandising Kari Woldum. "Every detail was considered, and the customer will discover a great deal of choice with quality, luxury and craftsmanship woven into each product."
DWR Textiles, the Camber Sofa Collection, the Parallel Bedroom Collection and the Goodland Sofa Collection launch in DWR Studios and online at http://www.dwr.com/textiles on July 25.
About Design Within Reach
Design Within Reach, Inc., founded in 1998 and headquartered in Stamford, Conn., is the source for the best in authentic modern design. The company markets and sells its furniture and accessories to both residential and trade customers through its retail Studios in North America, http://www.dwr.com and its Connecticut-based phone sales team at 1.800.944.2233. For inquiries regarding DWR Contract, visit http://www.dwrcontract.com.
For additional images and information, contact Kim Phillips at pr(at)dwr(dot)com.