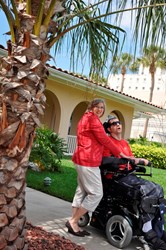 Fisher House allowed me to be no more than seven minutes from our son, Steven, which was so important to his recovery. Fisher House has made it easier for be to be an advocate for him.
New York, NY (PRWEB) July 25, 2013
Fisher House Foundation, which builds comfort homes that provide free, temporary lodging for the families of military members and veterans receiving medical care at major military and VA medical centers, passed a milestone this week when it marked its 5 millionth lodging night, at its more than 60 operating facilities in the U.S and Europe since its founding in 1990. Fisher House has saved military families more than $200,000,000 in lodging costs since that time.
The "homes away from home" for our nation's military service members and their loved ones, are designed to relieve a financial burden for military families while creating a support system during times of medical and family crisis.
"This is a bittersweet day for us, knowing that while we are fulfilling a fundamental need for our military families, we see the number of people who need us only continues to grow," said Ken Fisher, Chairman & CEO of Fisher House. "I know my Uncle Zachary, who founded Fisher House more than 20 years ago, would be proud of the work we have done. I look forward to the day when we can close the last Fisher House, because all our military members are home with their families and are fully healed."
Kelly Eakins was a resident of the Tampa VA Fisher House for nearly three years while she cared for her son, a fourth generation member of the Air Force, Steven Eakins. Steven is recovering from a severe car crash that resulted in his traumatic brain injury.
"Fisher House allowed me to be no more than seven minutes from Steven," Kelly said. "It allowed me to step away long enough for a meal or a shower with the reassurance I can be back by Steven's side within minutes. All of these things have been so important to Steven's recovery. Patients need their families to encourage, care and advocate for them. Fisher House has made that so much easier for me and my family."
Find Fisher House Foundation on Facebook, Twitter and YouTube.
About Fisher House
Fisher House Foundation is best known for a network of comfort homes where families can stay at no cost while a loved one is receiving treatment. These homes are located at major military and VA medical centers nationwide, close to the medical center or hospital it serves. Fisher Houses have up to 21 suites, with private bedrooms and baths. Families share a common kitchen, laundry facilities, a warm dining room and an inviting living room. Fisher House Foundation ensures that there is never a fee. Since inception, the program has saved military and veteran families an estimated $200 million in out of pocket costs for lodging and transportation.
Fisher House Foundation also operates the Hero Miles Program, using donated frequent flyer miles to bring family members to the bedside of injured service members as well as the Hotels for Heroes program using donated hotel points to allow family members to stay at hotels near medical centers without charge. The Foundation also manages a grant program that supports other military charities and scholarship funds for military children, spouses and children of fallen and disabled veterans.