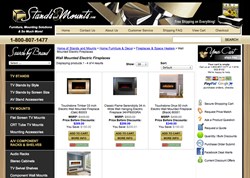 "Our initial response to our fireplaces has been great, and we're looking forward to working with StandsandMounts.com on this product."
Exton, PA (PRWEB) July 30, 2013
Touchstone Home Products, the industry leader in flat screen TV lift cabinets, announced an agreement with StandsandMounts.com to offer Touchstone's new line of wall-mounted electric fireplaces.
Touchstone Home Products recently released three new models of wall mounted electric fireplaces. The Onyx, a 50-inch-by-22-inch black glass framed electric fireplace with realistic flames, delivers the beauty of a fireplace to any room without the fire and smokey smell. The Ivory is a model with similar dimensions as the Onyx, but features a white glass frame. The Timber is a smaller 33-inch-by-18-inch design that features an oak wood frame.
"Touchstone is really excited to work with StandsandMounts.com and their people on this initial introduction of our wall mounted fireplaces to our eseller channel," said Frank Quinlisk, Touchstone Home Products' Vice President. "StandsandMounts.com offers exceptional customer service and has been a prized partner with us for years on our TV lift cabinet line. Our initial response to our fireplaces has been great, and we're looking forward to working with StandsandMounts.com on this product."
All three electric fireplace models feature two heat settings, and will heat a space up to 400 square feet. Each unit comes with a simple-to-use remote control, that lets users control flame intensity, heat level, and use the built in auto-off timer. The flame has five settings, ranging from a soft ember to the full flame top setting. The timer can be used to shut off the unit automatically in half hour increments, up to 8 hours. The heat and flame settings are independent, so the flame can run in any season.
Touchstone is working with StandsandMounts.com as part of an initial test marketing of its wall mounted electric fireplaces. StandsandMounts.com is a recognized leader in online sales of TV stands, media racks, A/V component racks, speaker stands and business furniture.
About Touchstone:
Touchstone is a leader and pioneer in the design and manufacturing of Theater Lift cabinets and mechanical TV lifts. Founded in 2005, Touchstone offers cabinets in contemporary, traditional, and transitional styles to fit seamlessly in almost any home. Bedroom-size TV lift cabinets accommodate flat panel televisions up to 45 inches, full-size cabinets will fit flat panel TVs up to 60 inches and mid-size cabinets up to 46 inches. Touchstone TV lift cabinets maximize space, enhance in-home entertainment experiences and provide added safety and security to any room in the house.
About StandandMounts.com
StandsandMounts.com is an online retailer that specializes in TV stands, TV mounts and other home theater furniture items.  Through the company's easy to navigate website, customers can find innovative ways to display electronics. A leader in audio video display solutions since 2003, StandsandMounts.com is a division of Caro-Line Holding Company Inc., headquartered in Fuquay Varina, NC.