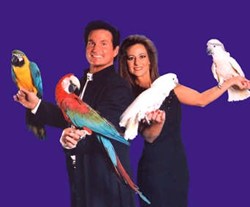 Branson, Missouri (PRWEB) July 24, 2013
Branson Ticket & Travel - The Hamners' Unbelievable Variety Show will feature the World renowned illusionists Dave & Denise Hamner, Jeff Brandt, Tamra Tinoco, Russian Acrobatic Adagio dance pair, Vadim & Mariya Serykh, Lex Pearson, Brenda Hahne, A.J. Heard, and Ken Brown.
To request a free showguide & Branson Vacation planner, click here.
Shows will be at the newly renamed Hamners Variety Theater. Starting March 11, shows will be 8 p.m., Tuesday, Wednesday, Thursday, Saturday, and 3 pm on Sunday.
The Hamners- Dave and Denise Hamner have headlined many major production shows around the world, presenting their award winning and original feats of magic. Venues include not only Las Vegas, Disneyland and Hollywood's famous "Magic Castle," but also Branson where they starred in the productions Branson City All Star Revue and Magic of the Night. For the past ten years they have co-owned and co-produced the Hamner Barber Variety Show. They have received the prestigious "Magic Masters Award" by their magical peers in Las Vegas, Siegfried and Roy personally honored the Hamners by presenting them with their "Bronze Lion Head Award" for performance excellence.
For more information: 1-800-432-4202
The Hamners are best known for their one-of-a-kind act in which they produce several beautiful Macaws and Cockatoos that appear amid flying cards, flaming swords, falling coins and jewels. The birds then perform an incredible flight over and around the audience before gracefully returning to the stage. Other original illusions include Stargate, The Lightning Levitation, Vertigo: The Fall of Death, Secrets of the Lost Ark Revealed, and the magical finale to their Veteran's tribute, "Thank You's Not Enough."
Jeff Brandt - Jeff is considered one of the top singing impressionists in the country. Jeff has co-starred in several Branson shows over the years, from the popular Jennifer In The Morning and Doug Gabriel shows, to the high-energy Wayne Newton show which featured Jeff's amazing vocal talents for 13 years both in Branson and Las Vegas. Wayne loved having Jeff as part of his show so much, that Jeff even moved to Las Vegas for 8 years to work with Wayne and that's where he earned the nickname, "The Voice." Among Jeff's other accomplishments are two appearances on NBC's "Tonight Show," a featured spot on the TV show "Las Vegas," two featured film appearances in "Vegas Vacation" and "Smoking Aces," performances at the White House in Washington DC, and the National Republican Convention. Add to those impressive credits 8 overseas tours for the USO entertaining troops in Kuwait, Italy, Iraq, the Persian Gulf, Korea, Hungary, Kosovo, Centcom, Bosnia and you've got a well rounded performer who has not only paid his dues and earned his credits, but also took the time to give back to our military troops who protect the freedoms that we Americans enjoy in our country.
Tamra Tinoco - Tamra is from Springfield, MO. She has a Bachelor of Music Education Degree from the University of Kansas City Conservatory of Music. She has performed all over the world and in 45 different states. She has produced shows such as "Magnificent Country," "Today's Country," "Showcase Jubilee", and currently the "Magnificent Variety Show." Tamra has performed with artists such as Lee Greenwood, Vince Gill, John Davidson, Jim Stafford, and Ferlin Husky. She was Porter Waggoner's guest star on the Grand Ole Opry.
Vadim & Mariya Serykh - Father and daughter Vadim & Mariya have been performing hand balancing adagio at Cirque Montage for the past two years. Mariya's first appearance on stage was when she was just 4 years old with her parents on the Showboat Branson Belle and has performed ever since in numerous events and production throughout the country. Mariya is a natural when it comes to acrobatics but more so as a dancer in Ballet, Modern, Contemporary and Jazz. Mariya was a competitive dancer and used her agility to learn how to soar through the air as an aerialist and to be flipped upside in sport acrobatics. She has also had the honor of winning the title of National and World Champion in dance. Vadim began training in acrobatic arts at the age of 11. His excellence earned him the title of Master of Sport of Soviet Union. He is "Recognized Honored Artist of the Russian Federation" recognizing that he is among the very best and most talented in their field of performance.
Click here to purchase Branson Show Tickets online.
Lex Pearson - House Magician/Illusion manager/comedian - Lex has appeared with the Hamners in Magic of the Night show. He has also appeared with Jim Stafford, The Duttons, and the last 7 years with the Hamner Barber Variety Show. Lex has been a featured artist in Mexican resorts Dreams, Secrets, Now, and Sunscape. Lex has appeared in the movies, Surrendered The Movie, and Broken Faith. You will be amazed with his close-up magic. You won't believe your eyes as he performs incredible tricks of the trade using cards, ropes, coins and more.
Brenda Hahne-Ventriloquist - Brenda and her cast of characters have been entertaining audiences for over 15 years. Not only a ventriloquist, Brenda is also a magician's assistant, having worked side-by-side with her magician husband Marty since they were married in 1983. Besides performing for hundreds of family audiences across the country, Brenda has also entertained on seven different cruise ships, and internationally in New Zealand and Singapore. Originally from Ohio, Brenda makes her home in Ozark, MO.