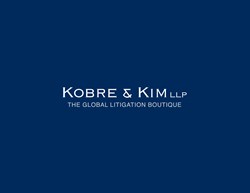 Chicago, IL (PRWEB) July 31, 2013
Together with The National Law Journal, Kobre & Kim LLP's Center for Trial Advocacy will hold their third annual event on September 10, 2013, in Chicago, Illinois. The event entitled "Cross Examination of an Expert Witness" will feature nationally recognized trial attorneys Dan Webb of Winston & Strawn and Kobre & Kim LLP's very own Matthew Menchel.
Mr. Webb's presentation will demonstrate:

How to challenge an expert witness's credentials
Ways to discredit an expert's methodology or theory
Strategies to impeach certain aspects of an expert's testimony while turning other aspects to your advantage
Following the presentation, attendees will have the opportunity to participate in a question and answer segment.
Event Details:
This complimentary event will take place at Chicago's Loyola University- Regent's Hall and will be broadcasted as a live webinar through The National Law Journal. The live event will be followed by a cocktail reception.
Date: Tuesday, September 10, 2013
Time:
6:30pm – 7:30pm CDT; Live seminar/webinar
7:30pm – 8:30pm CDT; Cocktail reception
Location: 111 E. Pearson Street, 16th Floor, Chicago Illinois
Click Here to Register for the Live Event.
Click Here To Register for the Webinar.
Complimentary CLE will be offered for New York on the live date of the program. Credit has
been requested for Illinois and Florida. CLE credit for other jurisdictions available upon
request.
For questions or inquiries regarding the event email CTA(at)kobrekim.(dot)com.