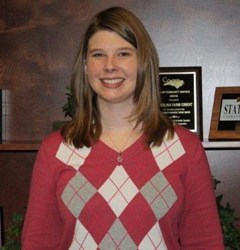 Statesville, NC (PRWEB) July 25, 2013
Michael R. Morton, CEO of Carolina Farm Credit, is pleased to announce that Maegen Williams recently joined the Carolina Farm Credit team as a Loan Officer Trainee in the Asheboro service center.
Williams is a recent graduate of North Carolina State University where she received her master's degree in Agricultural and Extension Education. While at NC State, she worked as an Agricultural Institute Teaching Assistant, and also worked as an intern at Carolina Farm Credit during the summer of 2010. She currently resides in Robbins, NC.
In her new role as a Loan Officer Trainee, Williams is looking forward to building strong relationships with business contacts and customers.
To learn more about the wide array of loans and financial services available through Carolina Farm Credit, call the Asheboro service center at 336-629-2141 or visit carolinafarmcredit.com.
Carolina Farm Credit is a farmer-owned cooperative providing short, intermediate, and long-term financing to full and part-time farmers and agricultural-related businesses and also provides financing for the construction and purchase of rural homes in 54 counties through 36 service centers. Other financial services available through Carolina Farm Credit are credit life and crop insurance, appraisal services, financial planning, and leasing programs.
Carolina Farm Credit serves over 8,800 members with loans outstanding totaling more than $1.3 billion. The association's territory covers the western half of North Carolina, with service centers located in Albemarle, Asheboro, Asheville, Boone, Browns Summit, Burnsville, Carthage, Concord, Ellerbe, Graham, Hendersonville, Hillsborough, Jefferson, Lenoir, Lexington, Lincolnton, Marshall, Mocksville, Monroe, Murphy, Newton, Pilot Mountain, Roxboro, Rural Hall, Salisbury, Shelby, Siler City, Sparta, Spindale, Statesville, Taylorsville, Wadesboro, Waynesville, Wilkesboro, Yadkinville, and Yanceyville.
Carolina Farm Credit was recognized as a 2013 Best Employer in North Carolina. The list of the Best Employers in North Carolina was created by Business North Carolina, the Society for Human Resource Management (SHRM) – NC State Council and Best Companies Group. Carolina Farm Credit is the 5th Best Employer in North Carolina in the small to medium-sized company category.
Directors for Carolina Farm Credit are Joseph A. Lail, Chairman, Shelby; Mark A. Bray, Vice-Chairman, Lawsonville; John M. Barnard, Statesville; E. Bernard Beck, Seagrove; W. Rex Bell, Statesville; David M. Coltrane, Pleasant Garden; Susie J. Gambill, Sparta; W. Steve Love, Graham; Bobby J. "Bud" Matthews, East Bend; Clark M. Newlin, Haw River; Thomas E. Porter, Jr., Concord; Tony L. Ragan, Sanford; D. Kaleb Rathbone, Waynesville; Lewis E. Smith, Lincolnton; Vickie N. Smitherman, East Bend; L. Kim Starnes, Salisbury; Dr. Alton Thompson, Summerfield.