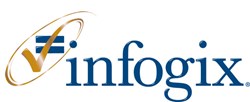 Naperville, IL (PRWEB) July 25, 2013
Infogix Inc., a leading developer of software that helps businesses automate multiple processes, and HealthScape Advisors, a management consulting firm focused on the healthcare industry and Health Reform readiness, are pleased to announce a new hosted solution further enabling health insurance carriers to comply with and successfully navigate the complex rules of the Affordable Care Act (aka Heath Reform law). Leveraging both Firms' collective experience and expertise, the companies have created the most sophisticated tools and analytics needed for success in the post-reform markets.
Hosted Solution Offering:
The new solution provides insurance carriers with an end-to-end solution for reporting claims and membership data to HHS. Key features of the solution include:

Hosted and managed Edge Server and HHS Edge Server software
Data extracted from all core data sources, including third parties
XML data created and stored for HHS Edge Server software
File preparation for HHS using mandated complex business rules, such as
 * Enrollment masking
 * Void and replacement claim identification
 * Identification of potential rejection records (e.g. duplicate claims) prior to submission

Control file development to mirror HHS accepted records and help identify when claims need to be updated * Prioritization and distribution of error records to appropriate party based upon error type
Extensive data integrity and reconciliation checks to mitigate compliance risk, as well as avoid potential underpayments
In addition, the new solution integrates with HealthScape Advisors' Pareto Intelligence™ software, which provides Health Plans with an analytical platform that delivers real time insight, management reports, and information output to support risk and value optimization processes and decisions, including:
Identification and closure of coding gaps
Optimization of risk scores
Monitoring of 3R program financial performance
Insurance carriers that utilize Infogix and HealthScape Advisors for this new solution will ensure data integrity through multiple built in capabilities including the ability to balance and reconcile all membership, claim, and 3rd party data from the source system all the way through the HHS extract. The solution also provides the ability to report periodic and ad-hoc reconciliation results and/or discrepancies and can match and track reports and acknowledgements from the Edge Server.
What are the Benefits of a Hosted Solution?
A hosted solution offers insurance carriers multiple options and benefits not necessarily available when purchasing and building their own. From predictable and easy–to-budget monthly costs to more flexibility to size and scope based on specific needs, the hosted solution is a top choice. It allows insurers access to premium service without having to deploy their own systems, which takes valuable resources away from other critical projects at a time when IT resources are extremely scarce. The hosted solution is fully HIPAA/HITECH compliant thus eliminating the need for expensive review of compliance requirements. The end-to-end nature of the solution covering hosting, capturing of the data from various sources, creating the appropriate XML and reports for submission to HHS and providing analysis on this data, truly makes this a complete solution to the health insurance carriers' needs around the Edge Server.
About HealthScape Advisors
HealthScape Advisors is a management consulting firm led by a team of healthcare experts who have worked together for over two decades. The Firm is focused on assisting healthcare organizations on a variety of their most important initiatives including health reform preparation, identification and entry into new markets, payer/provider collaboration strategies, mergers and acquisitions, operational and performance improvement, data analytics, and regulatory and compliance issues. HealthScape Advisors has been engaged over the last two years to help clients strategically prepare for the transition to a community rated risk-adjusted market and build the analytical tools needed to effectively navigate the new market. For more information, visit http://www.healthscapeadvisors.com or call 312.256.8617 to speak with one of HealthScape Advisors' professionals.
About Infogix Inc.
Many of the world's largest enterprises depend on Infogix to transform their operations. Through the use of Infogix solutions, customers are able to control, analyze, and improve their operations by realizing the full value of the Infogix Business Operations Management solution. Since 1982, Infogix has been providing Infogix Controls Solutions to Global 2000 enterprises. Millions of Infogix Controls continuously monitor and assure the integrity of information in hundreds of enterprises each day. For more information, call +1.630.649.6800 (U.S, Canada, and International), or visit http://www.infogix.com today.
Quotes
Together, Infogix and HealthScape Advisors provide the technology, data analytics, and business knowledge needed for a successful Edge Server solution. As Arjun Aggarwal of HealthScape Advisors explains, "Given the complex financial and operational workload, coupled with the compliance risk, health insurance carriers will need a sophisticated technology solution that is carefully crafted and which incorporates the associated business implications. HealthScape Advisors and Infogix have joined forces to provide our clients with just that."
"Our alliance with HealthScape Advisors provides an "out-of-the-box" solution that gives health insurance carriers the opportunity to truly leverage their Edge Server investments by eliminating complexity, reducing cost and ensuring information integrity. Together, our two companies bring over five decades of expertise in health care and information management. It is a powerful value proposition as companies ready their operations to support the Affordable Care Act," said Sumit Nijhawan, CEO of Infogix.