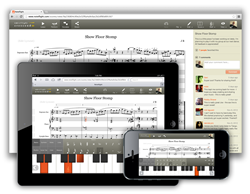 We saw such an enthusiastic response to our first digital publication with Noteflight, it's a natural next step to make more of our publications available in an interactive format.
Boston, MA (PRWEB) July 25, 2013
Noteflight LLC announced today that textbook publisher W.W. Norton will offer an online version of Musician's Guide to Fundamentals, 2nd Edition, by Clendinning, Marvin and Philips. College music students will be able access the exercises of Musician's Guide to Fundamentals from within Noteflight's website which also offers cloud-based notation software to over 700,000 individual users, universities and secondary schools around the globe. The Musician's Guide to Fundamentals text teaches the basics of music: listening, writing and performing - using real music from Bach to the Beatles, Broadway to the Black-Eyed Peas. Students are invited to listen to music, learn to interpret musical notation and eventually compose songs of their own.
With the purchase of the Fundamentals text, students can also access an electronic version of the book with exercises that will be made available for use in any Noteflight account, including those on Noteflight Campus sites. Students will be able to experience interactive music examples and complete worksheets and assignments online, eliminating the need to turn in paper copies to instructors. Students will also be able to leverage Noteflight's score writing application to create and share original compositions. W.W. Norton plans to release the text and digital package in the spring of 2014.
W.W. Norton's decision to offer a digital version of the Musician's Guide to Fundamentals follows last year's successful release of an online version of The Musician's Guide to Theory and Analysis workbook that was made available via Noteflight technology.
"We saw such an enthusiastic response to our first digital publication with Noteflight, it's a natural next step to make more of our publications available in an interactive format," remarked Steve Hoge, Vice President and Editor of Electronic Media for W.W. Norton, "Noteflight's technology allows W.W. Norton to offer online homework and continue to innovate in the realm of digital music publishing."
Noteflight's technology allows publishers of online content to easily embed interactive musical scores in a web environment without any additional development or coding, enabling publishers to bring their publications to market quickly. Musical scores can be synchronized with audio and video files, providing a highly interactive experience for students. Because Noteflight is accessible from any computer and many mobile devices, students can compose from anywhere, eliminating the need for schools to equip and maintain expensive lab environments.
"Norton is clearly a leader in interactive, digital learning," said Joe Berkovitz, Founder and CEO of Noteflight. "We are excited to work with Norton to release our second joint initiative text and offer students and instructors new way to communicate and interact around digital content."
Noteflight offers cloud-based music notation software to individuals, K-12 music teachers and university level music educators. It also licenses its viewer technology to leading global music companies, including sheet music publishers and digital content distributors.
About Noteflight
Founded in 2008 and headquartered in Cambridge, MA, Noteflight, LLC is dedicated to reinventing the way people create, share, and use written music. Noteflight allows users to take advantage of the full power of the Web to edit, display, and play back music notation in a standard web browser and is integrated with an online library of musical scores from which anyone can publish, link to, or embed their compositions. Noteflight Publishing Server allows music businesses to manage large, scalable cloud-based repositories of sheet music that can be customized for any device on the fly. For more information, visit noteflight.com.
Noteflight Press Contact: press(at)noteflight(dot)com, (617) 466-9531
About W.W. Norton
W. W. Norton & Company has been independent since its founding in 1923, when William Warder Norton and Margaret D. Norton first published lectures delivered at the People's Institute, the adult education division of New York City's Cooper Union. The Nortons soon expanded their program beyond the Institute, publishing books by celebrated academics from America and abroad. By mid-century, the two major pillars of Norton's publishing program-trade books and college texts-were firmly established. In the 1950s, the Norton family transferred control of the company to its employees, and today - with a staff of over 450 and a comparable number of trade, college, and professional titles published each year - W. W. Norton & Company stands as the largest and oldest publishing house owned wholly by its employees.