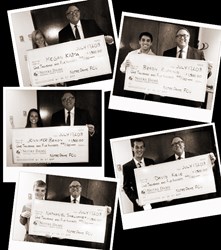 Notre Dame, IN (PRWEB) July 25, 2013
Notre Dame Federal Credit Union awarded eight scholarships for the 2013-2014 academic school year. The scholarship committee, made up of Notre Dame Federal Credit Union employees and members of its Board of Directors, searched for student credit union members that specifically demonstrated a well-rounded portfolio of academics, financial need, community involvement, leadership, and participation in academic activities. Students Jennifer Brady, Amy Johnson, David Keve, Megan Kilma, Cara Lucas, Brady Ruffing, Nathaniel Shellhamer, and Jake Yurek received $1500 and accompanying 2014 summer internships within the credit union department of their choosing.
Under the guidance of The Scholarship Foundation of St. Joseph County, this is the second year Notre Dame FCU has made these scholarships available. Notre Dame Federal Credit Union believes that higher education is among the most important intellectual and creative resources necessary to face current and future societal needs and challenges.
"On behalf of the entire Notre Dame FCU Family, we extend our congratulations to these very deserving scholarship recipients and wish them a bright and financially empowered future," said Tom Gryp, President and CEO at Notre Dame Federal Credit Union.
Notre Dame Federal Credit Union, headquartered in Notre Dame, IN is a not-for-profit financial cooperative serving nearly 55,000 members worldwide. With assets in excess of $427 million, NDFCU's devoted partners, and wide array of financial services provide members a personalized experience at the credit unions 11 convenient branch locations, its virtual branch, and through its robust online banking platform and mobile app.