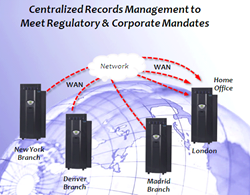 Colorado Springs, CO (PRWEB) July 26, 2013
Alliance Storage Technologies, Inc. (ASTI), the leader in professional data archiving solutions, today announced the enhanced replication features of the Archive Management Software (AMS) which is an integral component of ASTI's Archive Appliance and Archive Appliance Elite Solutions.
These software features provide the flexibility for clients to strengthen their Disaster Recovery (DR) strategies by automating offsite backup while eliminating manual offsite backup processes, which can be error prone and very manually intensive. Simultaneously providing geographically dispersed archive data redundancy with reduced recovery times, users are provided more immediate access to critical data when disasters strike.
"The replication feature provides powerful new functionality that directly benefits many organizations while fully supporting ASTI's 3-2-1 strategy for managing archive data. The new feature automates creation of immutable remote copies of data while additionally providing lower DR related operations cost. This facilitates uninterrupted business operations, and high availability when required, as well as providing flexibility for centralized records management for geographically dispersed organizations. This adds another layer of security for the safe keeping of critical corporate assets, while ensuring regulatory compliance" said Chris Carr, CEO, Alliance Storage Technologies, Inc.
Key features and benefits include:

Supports Geographically Dispersed Organizations
Automates the replication of data between multiple locations, supporting both creation and management of backup images, as well as the centralization of corporate digital assets.
Ensures Complete Data Redundancy
Replicates complete file data and metadata, including Access Control Lists (ACLs), permissions, and other extended attributes.
Real-time Tracking of Changes that Minimizes Network Overhead
Highly efficient replication via intelligent change tracking means highly efficient replication with minimal impact on corporate resources.
Simplified Failover/Failback Switching
In the event of an outage or a disaster, customers can easily switch to the replicated library for business continuity.
For more information on ASTI's Archive Storage Solutions, select one of the following links:
About Alliance Storage Technologies, Inc.
Alliance Storage Technologies, Inc. (ASTI), with over 25 years of archiving experience, is the leading source for professional data archiving solutions worldwide that meet and exceed regulatory compliance demands for secure, long-term data retention. These regulatory compliant systems preserve original data for extended periods (greater than 50 years) assuring archive data remains unaltered; a necessity for vertical markets such as Healthcare, Finance, Government, Insurance, and Legal.
At ASTI, we are committed to providing best-in-class support to our customers around the world. To find out more about ASTI and our data archive solutions, please visit us at http://www.alliancestoragetechnologies.com or call us at +1 719 593 7900.
Alliance Storage Technologies, Inc., ASTI and UDO are registered trademarks of Alliance Storage Technologies, Inc. All other product and company names herein may be trademarks of their respective owners.