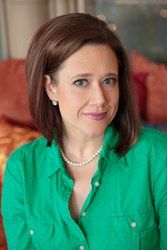 "Being available for my customers means more than just offering them my time," said Rebecca Wright, Truluck's Seafood, Steak and Crab House. "It signifies that I offer them the best of my experience in the hospitality industry."
Dallas, Texas (PRWEB) July 25, 2013
All businesses have a common denominator: customers or clients. Having loyal customers who are enduring advocates for a business is invaluable. Rebecca Wright, a noted Dallas hospitality professional for over 20 years, offers five simple tips to customer loyalty that are sometimes forgotten or overlooked. As special events coordinator for Truluck's Seafood Steak and Crab House North Texas locations, Wright is recognized for her customer expertise, personable demeanor, and articulate communication skills.
Wright's steps to customer loyalty are:

Be Available – Remain "open" when the business is supposed to be open. Keep an open mind to new thoughts and solutions and remain accessible during business hours
Be Accountable - Deliver what is promised and openly admit when something is not possible. Clearly communicate capabilities and remain steadfast in completing projects/to-do items for the customers
Be the Best at What You Do – Being a "One Trick Pony" is OK! Trying to be too many things opens the door to potential mediocrity across the board. Concentrate on what the business does well and then do it time and again.
Be Committed….to customers' goals and objectives as well as to individual and business strengths. Align the two to achieve the best possible outcome for customers without fail
Be Happy – Let customers know that they are great!
Wright cites a customer example that illustrates her tips. She had an out of town customer who was hosting a rehearsal dinner with Wright. The customer needed referrals for local caterers to provide lunch to the bridal party the following day while everyone was at hair and makeup session appointments before the wedding. Wright made a referral to an offsite caterer who she knows and trusts as well as helped her customer schedule additional transportation for her family through another vendor Wright knows well. This customer now has a grandchild in Dallas and she dines with Wright every time she is in town. Wright became a trusted resource to the customer and she has remained part of the customer's Dallas experience.
"Being available for my customers means more than just offering them my time," added Wright. "It signifies that I offer them the best of the experience I have gained throughout my career in the hospitality industry."