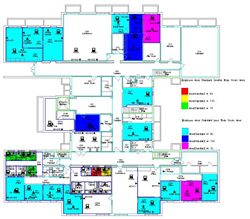 Austin, TX (PRWEB) July 25, 2013
faciliCAD LLC, a leading provider of computer-aided facility management (CAFM) software, has expanded its offerings to include Software-as-a-Service (SaaS) solutions that leverage the cloud to provide top-notch facility management and space planning capabilities. The new offering removes the hurdles inherent to owning and managing an IT infrastructure, including software installation, integration, upgrades and maintenance. Organizations that proactively manage their space and occupancy now have the tools and support to better use their data to streamline the space management process while embracing the needs of the mobile workforce.
faciliCAD's SaaS offering includes use of faciliCAD, faciliCAD Web Manager, training, implementation and hosting for one, low monthly fee. Benefits of the new SaaS offering include:

Lower initial costs – faciliCAD SaaS applications are subscription based. No license fees mean lower initial costs. Having faciliCAD manage the IT infrastructure means lower IT costs for hardware, software, and the people needed to manage it all.
Reduced deployment time – Get up and running faster because faciliCAD SaaS solutions are delivered via the Internet, which eliminates installation and setup on the customer's end. In addition, since the software is designed by necessity to be easy-to-use, users can typically teach themselves how to the use products in a short period of time.
On-demand access – Internet accessibility means that faciliCAD cloud offerings are available anytime, anywhere – employees can work from any location where Internet access is available.
Painless upgrades – Because faciliCAD manages all updates and upgrades, there are no patches for customers to download or install. faciliCAD also manages availability, so there is no need for customers to add hardware, software, or bandwidth as the user base grows.
In addition to the benefits, the faciliCAD SaaS application includes new and enhanced features:
New Area Standards Model – This component provides actionable data on under-utilized space, showing management exactly where money can be saved.
Enhanced Move Manager – The updated tool simplifies the move management process from area selection and approvals communication to scheduling and asset placement.
"With faciliCAD now offering a SaaS solution, we have eliminated the high start-up costs associated with most CAFM systems, our clients can be up and running faster, they can access their data from anywhere and there is almost no burden on their IT departments," said Bill Kilp, faciliCAD's VP of Product Development and Consulting Services. "Also, by hosting the faciliCAD applications in the cloud, data management for multi-site organizations is greatly simplified."
About faciliCAD, LLC
Headquartered in Austin, Texas, faciliCAD is a leading provider of computer-aided facility management (CAFM) software and solutions. faciliCAD is focused on providing our clients a best-in-class CAFM solution that is affordable to own, simple to implement, and easy to use. In addition to offering innovative facility management applications, faciliCAD provides expert training, support and consulting services.
faciliCAD's current install base ranges from small facilities managing 100,000 sq ft to Fortune 500 facilities managing over 5,000,000 sq ft. The types of facilities currently using faciliCAD include Offices, Healthcare, Manufacturing, Education, R&D, Power Plants and Government Agencies.
For more information about faciliCAD, please visit http://www.facilicad.com or call 888-757-2236.