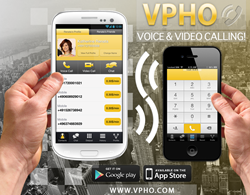 (PRWEB) July 25, 2013
VPHO developers recently conducted an experiment to test the communications app in a 3G connected environment between the old and newer version.
VPHO launched the call out services for land line and mobile users in over 160 countries worldwide. The experiment was an important part in allowing VPHO users to enjoy and be satisfied with the services through its "Pay As You Go" options.
The results prove that voice, video, and conference call experiences were enhanced with the latest version's upgrades.
"We weren't very satisfied with the call quality and so we thought there was more room for improvement," explains Eliran Hadar, Product Manager of the VPHO application.
With the recent update, lag time has been reduced up to 150 percent resulting in enhanced sound and video quality. Since the experiment was conducted over a 3G connection and not WiFi, the results are quite a breakthrough in cellular video calling, says Hadar.
The upgrade further enhances performance during a conference call in either voice or videoconference mode. Lag time in a 3G connection has been reduced to a minimum with sound quality clear and steady while holding conference calls. With this kind of performance, it's expected that unintentional call interruptions will be reduced, leading to a more enjoyable experience using all features available with the VPHO application.
"We are now content with the performance of the call. But, that doesn't mean we are finished improving the call quality in this application," says Hadar. "This is quite a milestone for us and we're happy that we came up with a way for users to enjoy making calls through VPHO with such an underperformed Internet connection. You could almost say that there are no means to stop you from having a pleasant conversation with your friends and families."
VPHO is a free to download application available worldwide in iTunes and Google Play . VPHO, script, popup and user interface translated and supports more than 14 languages in a left to right and right to left visualization and writing. VPHO supported languages include: English, Spanish, Russian, French, Portuguese, Polish, Swedish, Norwegian, Hebrew, Arabic, Indonesian, Korean, Japanese and Chinese.