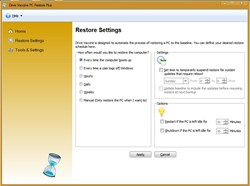 The main advantage with Drive Vaccine is that the protection is always on. This means that our PCs can be restored even from botched baseline updates and software installations.
Blaine, WA (PRWEB) July 26, 2013
Horizon DataSys announced today that the Kewanee Community Unit School District has selected its Drive Vaccine software for the centralized management and streamlining of its IT operations.
Kewanee CUSD is a small, rural northwestern Illinois school district and the Kewanee IT department's inventory is well over 2,000 devices, including computers, many servers, routers and other networking equipment spread across seven buildings. But the district has only two employees managing and servicing all this IT equipment. One of these two employees, Mike Perva, Director of IT at Kewanee CUSD evaluated a couple of different instant recovery solutions before he came across Horizon DataSys' Drive Vaccine.
Drive Vaccine allows IT departments to automate the process of resetting PCs by having them continually return to a predefined configuration every time the machine restarts, on logs off, on any fixed schedule, or after a period of inactivity. With Drive Vaccine in place, IT departments of public access PCs are able to significantly reduce their budgets and staff hours allocated to dealing with multi-user PCs being unavailable or poorly configured. Drive Vaccine simplifies IT management by keeping these publicly accessible computers in an optimal and consistent state. When set up, Drive Vaccine automatically recovers from any software corruption, accidentally deleted files, virus infections, the Blue Screen of Death, on up to issues that cause Windows to no longer boot.
"We wanted to highlight Kewanee," explains Lyle Patel, President of Horizon DataSys, "because they're representative of a lot of other similar small school districts which have a very basic need that we feel that only Drive Vaccine can adequately address in an efficient and economical way." With the discontinuation of Microsoft SteadyState there's nothing else available in this market space that fills this need for a simple-to-use reset option available for a reasonable cost for small schools and libraries with tight budgets.
"We liked the product and started using it right from the box," says Perva. "Drive Vaccine fits our needs quite well. It's easy to use... It's simple to install, and provides a lot of flexibility," he says. The main advantage with Drive Vaccine is that the protection is always on. This means that our PCs can be restored even from botched baseline updates and software installations.
Prior to implementing Drive Vaccine, there were three main problems that Perva saw as major concerns. "We were afraid, first of all, that people were going to install software that wasn't legally licensed by the school district, and we didn't want to run into any licensing issues." Secondly, Perva says, "A couple of other school districts had major virus outbreaks; we didn't want that either." Third, "we had concerns that students were leaving sensitive information behind that a malicious user could potentially access." But Drive Vaccine discards all such changes made by the public PC users so that every new student session starts up in the pristine condition that the IT admin determines. For Perva the best aspect of Drive Vaccine is that it's non-restrictive PC protection, it doesn't lock-down users or have them limited to only a few Windows functions.
Perva continues: "If you're looking for a replacement for Microsoft Windows SteadyState, I'd suggest checking out Drive Vaccine." SteadyState was discontinued in 2010 and doesn't support Windows 7 and Windows 8.
Currently, Horizon DataSys has an special offer extended to members of TechSoup for a five licence pack of Drive Vaccine. For more information on the Techsoup offer visit http://www.techsoup.org/horizon-datasys.
About Horizon DataSys:
Horizon DataSys Corporation is a privately held software company headquartered in Blaine, WA which develops, publishes, and distributes branded computer software applications specializing in end-point PC management, OS integrity, and instant restore solutions.