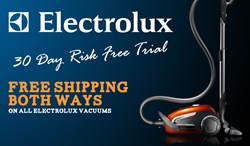 Boston, MA (PRWEB) July 25, 2013
Buying a new vacuum can be a big deal for many people, especially when they've saved for a few months to pick one that will last, comes with a good warranty, has extra features, has low noise emissions, good filtration, and of course one that will leave the floors looking spotless and brand new. There is the fear that they won't like what they choose, that it will break down on them, that it won't clean their unique carpeting the way they expected, or that it will scare the pets. That is why eVacuumStore.com, the online vacuum superstore, has teamed up with Electrolux to offer thirty day risk-free trials on all Electrolux vacuum cleaners.
Customers who are in the least bit skeptical about the model they are choosing will now have the option of returning the vacuum within 30 days of the sale without paying for shipping either way. In addition to free shipping both ways, eVacuumStore's Risk-Free Trial deal also grants customers the comfort in knowing that they will incur no restocking fee in the event that they opt to return the vacuum. As eVacuumStore representative Josh Schonfeld puts it, "The biggest obstacle of operating an online retail store for anything is the fact that our customers can't really use the product before purchasing it. This way, they get to use the vacuum at home and see if it's what they wanted. If it is, great, and if it's not, they get their money back and return shipping's on us." The 30 Day Risk-Free In-Home Trial is the missing link, Schonfeld and others believe, in making online retail the way of the future. "The beauty," Josh continues, "Is that this deal doesn't just put us on the same starting line as large department stores, it actually puts us ahead of them because many of those stores charge restocking fees, and with this 30 Day Risk-Free Trial, the restocking fee has been eliminated."
This unprecedented Risk-Free In-Home Vacuum Trial for an authorized Electrolux dealer makes eVacuumStore the only place where Electrolux customers can purchase a vacuum, knowing that if they decide within 30 days that it wasn't what they wanted or doesn't fit their personal cleaning needs, they will receive a full refund and not be charged at all for shipping.