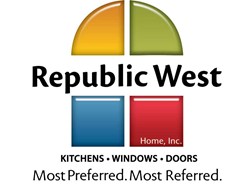 Phoenix, AZ (PRWEB) July 29, 2013
To better protect homes as monsoon season kicks off in Phoenix, Republic West Home is now offering triple pane window replacements at no extra cost. Phoenix and Scottsdale residents are preparing for the third round of thunderstorms this week. The combination of high temperatures, high winds and moisture can have a devastating effect on man made structures. Republic West Home recognizes this danger and wishes to provide as many people as possible with adequate protection.
Triple pane windows give a home the extra fortification it needs during four dangerous months of the year. Monsoon season in Arizona officially begins June 15 and ends September 30, with activity peaking in July and August. The weather can range from a mild dust storm to violent thunderstorms. A high volume of rain is common, making flash floods a real danger for homeowners and drivers.
Monsoon thunderstorms can inflict major damage on a home, especially around windows. High winds and flying debris often shatter single or double pane windows. Once a window is broken, the home becomes susceptible to damaging elements. During a monsoon thunderstorm, a wall of dust usually moves through the Valley, accompanied by thunder and lightning. A shattered window allows the dust to flow through the house and the air quality becomes poor. This is especially detrimental to people with asthma or other breathing issues. Typically, after the dust, torrential downpours can occur which can result in massive water damage and mold.
The unpredictability of monsoon season is why Phoenix residents are encouraged to take advantage of the free triple pane upgrade as soon as possible. Homeowners can either invest in safer windows today, or pay the price of the damage later on because single or double pane windows could not weather the storm. Republic West Home warns residents to use foresight; it may save a loved one's life, in addition to property.
About Republic West Home:
Republic West Home is a company that stands for quality, honesty, and the best value. Our vision, in an industry often lacking ethics and reliability, is to deliver the best home improvement experience possible—before, during, and after your home remodeling project.
To achieve this, an extensive team of professionals was put in place: employees driven to make the home improvement experience a great one for you, our customers. The formula works and the pleasant experiences we create for our customers have paid off. In an industry where repeat business averages less than 5%, Republic West Home and our 15,000+ clients generate an amazing 50% of our business from previous customers and referrals.
For additional information, please call 480-423-9300 or visit http://www.republicwesthome.com
Media Contact:
Jason W. Jantzen
Phoenix Marketing Associates
http://www.PhoenixMarketingAssociates.com
602-282-0202