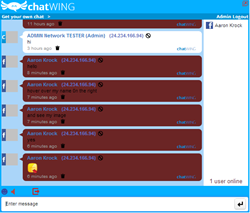 Cambridge, MA (PRWEB) July 25, 2013
Information can spread from one point to another rapidly because of the Internet. People have used this as an advantage to share and gain knowledge across the globe. Interesting contents are being posted that usually raise debates and sensible discussions. Chatwing.com has seen the need for an efficient chatroom to facilitate such worthwhile interaction. The latest chat tool from Chatwing ensures connectivity and social media leverage at certain levels.
The refutable company has introduced a simple yet effective chat tool that will help alternative learning blogs increase web traffic. The website chat app can go live in less than a minute. Social media users can immediately participate in chat discussions through providing their Facebook and Twitter log in infos. To further help a website improve its online visibility, Chatwing included Yahoo and Gmail accounts as valid access methods. Web owners are now provided with greater opportunity to reach more people and educate them.
Chatwing chat software is a flexible communication tool for it can be modified in more ways than one. Its communication capacity can also be adjusted in relation to the number of message receiver depending on the Chatwing form. Interacting with thousands of users simultaneously can be facilitated by the regular widget style while the vanity URL form is used for group chats. Web admins can select web surfers to be moderators. Chosen moderators must set up their own Chatwing accounts first before they can ban users and delete chat box messages.
The advanced chat app offers much potential not just in alternative learning websites. It can also become a powerful online marketing tool for businesses or for advocacy blogs looking for supporters and funders.
About Chatwing.com
Chatwing.com specializes in the new field of live website chat software. Over years, the Chatwing team has introduced live chat widget for hundreds and thousands of blogs. The Chatwing application bridges people from many parts of the world, creating global synergy through the Internet. The shout box can be installed in just seconds, and it can be used for varying purposes such as leisure and Internet marketing. It also allows a user to customize the size, color, and name of the widget.