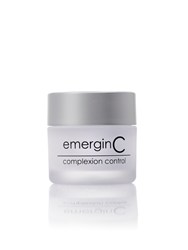 Sydney, Australia (PRWEB) July 27, 2013
Cosmeceutical skincare brand emerginC has redeveloped one of their best sellers in order to bring customers a more results-driven and effective product than ever before.
The newly reformulated Complexion Control - now with willow bark and alpaflor – is a lightweight, hydrating emulsion that balances and protects skin, restoring it with a healthy and natural glow.
Willow Bark works to calmly yet effectively improve the skin through its naturally occurring salicylic acid, which helps to remove old, dead skin cells and make way for new, radiantly glowing skin.
The naturally sourced ingredient also boasts anti-inflammatory properties, relieving skin swelling and sensitivity and making it a perfect solution for skins suffering from acne, excess oil production and rosacea.
emerginC have also added Alpaflor - a relatively new ingredient to the skincare market that reduces the sebum production rate and allows the skin's pH level to return to a healthy, balanced level.
For more information about any reformulations or new products in the emerginC range please contact Inskincosmedics HQ on +61 29712 8188.