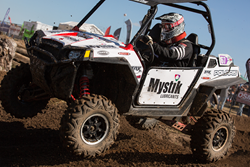 Minneapolis, MN (PRWEB) July 25, 2013
His name is synonymous with ATV racing and he'll be one of the featured stars on the 2013 Mystik Lubricants Terracross Championship. Rath, a native of Hutchinson, Minn., has collected four National championships, two International championships and a laundry list of State and District ATV/offroad titles. Daryl Rath was also a top competitor in the Quad Terrain Challenge (he was the first-ever Quad Terrain Challenge champion on the defunct WPSA Quad Terrain Challenge circuit) and is the reigning Pro Terracross Utility Quad points champion on the Mystik Lubricants Terracross Championship. At 45, he is still a top competitor and has also started the Daryl Rath TT Race School where he teaches ATV riders of all ages and skill levels the ins and outs of flat track racing.
Rath brings a wealth of knowledge wherever he goes and his presence at Mystik Lubricants Terracross Championship events is priceless:
"Having Daryl here really says a lot for the circuit," said Terracross Championship's Joe Duncan. "Not only does he set the pace every time he gets on the track, he's got so much knowledge. And maybe the best thing is he shares it all with anyone who asks for help. I can't say enough good things about Daryl."
Last season Rath finished second in Pro Terracross Side-X-Side points and won the Pro Terracross Utility Quad championship taking a win in each class in the process. This season he will be looking to improve his results and that means trouble for the rest of the field.
"Mystik Lubricants Terracross Championship combines so many different types of terrain it makes it difficult to set up the vehicle and difficult to race," said Rath. "It's very technical and not so much about speed as it is about precision and consistency, and that's what makes it fun to race and fun to watch. I got a taste of success last year and my goal, with the help of Mystik Lubricants, is to win it all in 2013."
The Mystik Lubricants Terracross Championship features some of the most well-known powersports and action sports figures in the world racing Side-X-Sides, Utility Quads and Sport Quads on the gnarliest track anyone could imagine. Athletes will battle it out over rocks, logs, tires and mud in pursuit of the Terracross Championship. Fans from all disciplines can cheer on their favorite sports icons as they compete, not only against others, but themselves.
For more information on Mystik Lubricants Terracross Championship, visit http://www.terracrossracing.com.