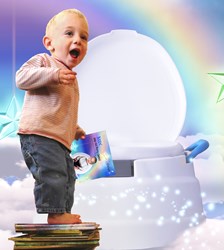 "This book is helping get my son excited about potty training again." - Melissa Joan Hart
Los Gatos, CA (PRWEB) July 31, 2013
Potty training is a milestone that instils pure dread into many parents; a time that is guaranteed to be filled with frustration, tears and complete and utter exhaustion....and it's not much better for the children!
When spending fortunes on underwear with cartoon characters becomes fruitless and the bounty of candy offerings don't work as desired, fear not! Flattenme.com has an innovative and imaginative personalized potty training book, specifically designed to get little tinkers to tinkle in the right place!
Entitled 'The Potty Dance', the custom book personalized with the child's name and face aims to teach and inspire children by helping them to visualise themselves using the potty. The child's face is placed on a character that dances his way all around the world, from Spain to Ireland, and is desperate to the use the bathroom.
Your child will see themselves performing the potty dance, a combination of the polka, a waltz and a tango, whilst all the while holding out until they get home to use their very own potty. This in turn subliminally encourages children to conform to the concept of using the potty at home.
CEO of Flattenme, Margo Redfern said: "Not only will 'Potty Dance' make parents love potty training their children, but it will make the process entertaining and give them a laugh. Eventually the story will take the child onto their next step towards their little world becoming diaper free."
Not only does book 'The Potty Dance' make the art of potty training fun for all parties involved, but it encourages reading and educates about many of the countries all around the world, making it a great all round read.
Beautifully illustrated to spark children's imaginations, 'The Potty Dance' personalized book is a story that is sure to lead to a happy ending for everybody!
##############################
Flattenme.com is a personalized gift company that specializes in magical personalized books and gifts such as custom t-shirts, personalized water bottles and more.