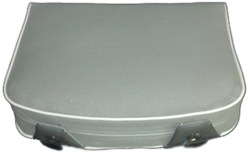 These bath cushions are great for adding seat height or to increase comfort!
New York, NY (PRWEB) July 25, 2013
A national distributor of senior bathing appliances, Aging Safely Baths announces they will now offer a premium quality padded bath pillow for walk in tubs. These exceptional seat cushions have numerous levels of compression options. The standard cushion starts at 3.5" and compresses down to 1.5". Clients can also get much thicker cushions that measure from 8" down to 6.5" when compressed.
According to the company, these deluxe seat cushions are very easy to clean as well. These ingenious devices are made of a very high quality material that's designed to be in water. Clients that would like to sit higher in the bathtub should consider one with more filling. In some instances it may be easier for bathers to get out of their seat if they have less distance to travel. Some handicap bathtubs have jets on the seats. Fortunately Aging Safely can customize the riser to exact specification without significant increases to the cost.
Being able to get back on one's feet again in the bathtub or shower can be a real issue for some people. There are numerous medical conditions that can inhibit normal ranges of mobility. It isn't uncommon for the elderly and disabled to invest in bathroom products that potentially help them bathe more independently. These specialty appliances are equipped with 5' handheld shower wands as well, which can make cleaning the body while taking a bath easier for some.
According to Aging Safely, the pads are made especially for walk in tubs; however they can potentially be integrated into a shower seat as well. They come with a very unique fastening system utilizing multiple suction cups to keep the riser in place.
Bathroom appliances with low step in entries can potentially make some people's lives more enjoyable. Being able to bathe with a sense of independence and without having a fear of falling may be hard to put a price tag on. Unfortunately some people rarely bathe at all due to mobility restrictions. Not having the right products quite simply can possibly make life harder.
Furthermore, commercial organizations such as nursing homes, assisted living, senior communities, builders and long term care centers can qualify for volume pricing when ordering in bulk. Companies can choose to have their logos embedded into the seat cushion for luxury hotels and other companies that want to further promote their brand.
Contact Information:
Zach Wennstedt
1-888-779-BATH(2284)
info(at)Agingsafelybaths(dot)com
http://www.Agingsafelybaths.com