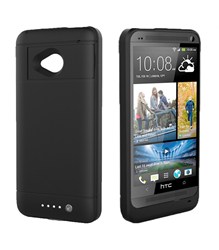 The best battery case for HTC one M7 with stand
Shenzhen, China (PRWEB) July 30, 2013
Smartphone users are always having to deal with battery life – they never seem to last as long as consumers want them to. For this reason, Esorun has released a stylish battery case for the HTC one. The external battery case is expected to be a big hit in 2013 and years to come.
HTC one has gained a large amount of popularity in the consumer market. Currently, there are only a couple of suppliers who are providing a battery case for this mobile device.
The many different features of the battery case:

Avoid flash light reflection. In order to avoid the flash light reflection, the case has a black camera windows design.
Landscape stand. It has a perfect stand design to support landscape stand.
Battery life. With merely a glance, consumers can track their battery status. It has an integrated 4-light LED status indicator located on the back of the shell.
The USB plug. It contains a micro USB plug, which will make charging the phone easier than ever before.
Earphone cutout. The earphone cutout is located on the top.
Right frame. On the right frame, there are 2 buttons for controlling the phone.
The main features consumers should know about
Battery Capacity: 2600mAh
Cell Battery – Li-polymer
Input - DC5.0V 500mA
Output - DC5.0V 500mA
Charging Time – A total of 5 hours
Weight - 75g (consumers don't even notice the extra weight)
Size – 150x60x15mm
Color: The battery case is available in black, white and OEM color.
The HTC One packs a large amount of apps, has fast speed and great power, but the battery life isn't up to par because it usually does not last for a full day. Esorun created this battery case in order to help consumers to expand their battery life, giving them back-up power they need.
More about Esorun: The company behind the portable charger
Esorun is a professional technology company located in Shenzhen, China. They specialize in various products such as wireless external hard drives, key ring chargers, power banks, iPhone 5 battery case s and much more.
About the Battery Cases for the HTC One
The HTC One battery case s, produced by Esorun are expected to become a big hit in 2013 and years to come. The battery case will give consumers a backup plan when their battery dies – it helps to extend the life of the battery. The cases are available in black, white and OEM colors.