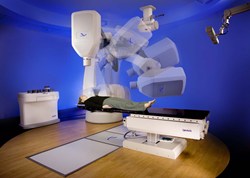 The staff treated me with dignity and respect and wanted to know how they could help my progress.
Park Ridge, Ill. (PRWEB) July 25, 2013
Illinois CyberKnife has developed expertise in stereotactic radiosurgery for brain tumors using CyberKnife® technology since opening in 2011. Last year, brain tumors accounted for more than half of the total patients treated at the center.
Among those cases was Ethel Wentink, a patient with a meningioma, a type of benign brain tumor. Wentink was originally misdiagnosed with trigeminal neuralgia (TN) after exhibiting all the symptoms of the nerve disorder characterized by excruciating facial pain. After a year of unresolved and mounting pain, she underwent an MRI, leading to the discovery of a tumor growing directly on her trigeminal nerve.
"I spoke with a radiation oncologist and was told I would need to lose 50 pounds to be eligible for treatment," Wentink said. "I got out of the house and into a health club and lost the weight but then found out I had to lose an additional 100 pounds to receive treatment."
Devastated by the delay, Wentink began to pursue other treatment options and discovered Illinois CyberKnife. The center is able to treat both brain tumors and TN with stereotactic radiosurgery using CyberKnife technology. After researching, Wentink found she would only need to lose an additional 50 pounds to receive CyberKnife treatment.
"With other radiosurgical systems, bolted head gear is required," Wentink said. "It was a relief to know that with CyberKnife I would have only a molded mask placed over my face. From everything I read, CyberKnife seemed to be the best option, and it turned out that way."
During treatment, precisely targeted, high doses of radiation are delivered to the tumor. Common methods for brain tumor treatment include surgery and conventional radiation therapy. However, surgery requires incision and an overnight hospital stay, and conventional radiation therapy can be lengthy and cause harsh side effects.
"In addition to not requiring a head frame, CyberKnife also has the unique ability to offer staged or fractionated treatment," said Illinois CyberKnife medical director Dr. Arica Hirsch. "In those cases, treatment is spread over two to five smaller sessions. This makes it possible to more safely treat some meningiomas that are larger or those located next to critical structures like the optic nerve."
CyberKnife treatment requires no incision or sedation. Patients experience few to no side effects and are typically treated in five or fewer procedures, which each last less than two hours. Wentink was treated in just three sessions. Immediately after treatment, her facial pain began to decrease.
"I had no pain during treatment," she said. "The staff members helped me get into a position where I would be most comfortable and communicated with me throughout treatment, so I would know what was happening throughout the entire session."
Wentink said the staff's extra care and assistance made the experience stand out.
"Once I was a candidate, they knew I was working toward losing weight and asked me to keep them apprised of my progress. It was a team effort," Wentink said. "The staff treated me with dignity and respect and wanted to know how they could help my progress."
Following her treatment, Wentink decided to volunteer at the hospital to show her gratitude for the care and assistance she received.
"I work on the art cart, and we make items to offer patients or work on crafts they can make with us," she said. "It is so rewarding that I want to start volunteering an additional day of the week at the children's hospital."
In addition to treating brain tumors, Illinois CyberKnife treats malignant and benign tumors in the prostate, spine, lung, liver, pancreas, kidney and eye. Brain and lung tumors comprise the majority of treatments at the center. CyberKnife may not be appropriate for all brain tumor patients. Only a doctor can determine the best course of treatment for an individual diagnosis.
Illinois CyberKnife is a department of Advocate Lutheran General Hospital and is located at 1700 Luther Lane, Suite 1110, Park Ridge, Ill. 60068. For more information, call (847) 723-0100.