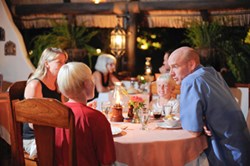 "We wanted to offer the ultimate Thanksgiving, so we took all the things we love about the holiday and incorporated it into one all-inclusive package that's surprisingly affordable."
San Ignacio, Belize (PRWEB) July 27, 2013
While many people may not associate Thanksgiving with swaying palm trees, ancient Maya temples and vast rainforests, the holiday is widely observed in the tiny Caribbean country of Belize, where it has become the focal point of a unique annual celebration at The Lodge at Chaa Creek, according to the Belizean eco resort's food and beverage manager Bryony Fleming Bradley.
In fact, last year's month-long feast was such a success that Chaa Creek began taking reservations this week, she added.
Thanksgiving has a long tradition in Belize, most likely as a consequence of the country's proximity to the North America, the presence of a large North American expat community and the "trickle down" effect from the large Belizean diaspora living in the US and Canada, Ms Fleming Bradley said.
"People seem surprised to hear that Thanksgiving is so popular in Belize, but it's a holiday that many of us grew up with here and seems to get bigger each year. And recently there's been a real increase in the number of people coming down to Belize to celebrate Thanksgiving with their families and friends," she said.
"I suppose that when you consider the effort it takes these days to bring everyone together to celebrate a holiday, people want to make the most of their time together and turn it into something truly special. It's been a pleasant surprise to see our Thanksgiving holiday package become as popular as it has," she added.
Chaa Creek's 2013 Thanksgiving all-inclusive Belize Vacation Package is a minimum three day mix of fine food, activities and relaxation that will be available throughout November. With an emphasis on fine dining, the package includes all meals, the eco-resort's signature rustic-luxe cottage accommodation, guided bird walks, and access to Chaa Creek's 365 acre private rainforest reserve with miles of secure jungle trails linking 70 Maya archaeological sites, a butterfly farm, the educational Natural History Centre, Rainforest Medicinal Plant Trail and Maya organic farm as well as the Hilltop Spa, restaurant, Jungle Lounge and pool.
Activities include horseback and mountain bike riding, canoeing on the Macal River and guided or self-guided nature walks.
"We wanted to offer the ultimate Thanksgiving, so we took all the things we love about the holiday and incorporated it into one all-inclusive package that's surprisingly affordable. And there's the bonus that it can be a guilt free experience. Although there's a lot of feasting, there's also a lot of healthy activity to burn those extra calories off," she said.
Ms Fleming Bradley added that Belize's famously multicultural population makes for a unique celebration that combines the familiar with the exotic "Like all holidays in Belize, Thanksgiving has taken on a real multicultural flavour. In Seine Bight or Dangriga you'll hear Garifuna drumming, out on Ambergris Caye there will be lobster on the table, and here in Cayo you'll find tamales and maybe a mole sauce to go with the turkey. Our blend of cultures is very noticeable over the holidays," Ms Fleming Bradley said.
Turkeys have been an important part of celebrations in Belize for thousands of years and Chaa Creek's head chef, award winning Mario Alejandro Mendez, will be combining authentic Maya cuisine with the more familiar turkey with all the trimmings westerners are accustomed to, she added.
"Turkey dinners have a long history in Belize as the ancient Maya hunted and then domesticated wild turkeys, which were particularly important during feasts and ritual celebrations, so Chaa Creek's annual Thanksgiving turkey feasts are actually continuing a culinary tradition stretching back for thousands of years.
"Chef Mario puts on a traditional western-style Thanksgiving table, but also uses his creativity to make Maya influenced dishes available as well, so our guests are always assured a dining experience that they'll talk about for years. Our word of mouth and repeat guests are a testimony to that," she added.
Ms Fleming Bradley said that the Thanksgiving Belize All-inclusive Vacation special will be available throughout November and that RSVPs are essential.
The Lodge at Chaa Creek is an award winning eco resort set within a 365 acre private nature reserve in Belize.
ENDS