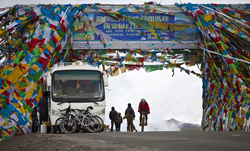 (PRWEB) July 26, 2013
Explore Tibet, a Lhasa-based Tibet tour company, is currently offering biking tours to the region. Starting in Lhasa, and lasting for 20 days, the tour finishes in Nepal.
The tour passes through some of Tibet's most famous and scenic attractions, including lakes and glaciers, isolated villages and Buddhist monasteries.
Explore Tibet have said, "Tibet offers some of the most extreme and exhilarating mountain biking adventures. This particular tour comprises indispensable spiritual and cultural experiences by visiting active historical monasteries and bustling local streets."
From Lhasa, the tour gradually heads up to the west and passes through the diverse landscape of the Himalayas.
On the sixth day of the tour, bikers pass Yamdrok Lake. One of the three largest sacred lakes in Tibet, Yamdrok is over 72 km long. The lake is surrounded by many snow-capped mountains and is fed by numerous small streams.
The tour then continues over last couple of passes and into subtropical Nepal through the Mustang Gorge.
Explore Tibet is a locally owned Tibet travel agency committed to responsible tourism, Tibetan travel permit and sustainable practice.