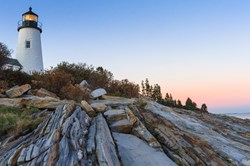 "This photography seminar is one of many experiential packages we have planned to give our guests a special immersion in our destination that leaves them with an even more authentic sense of place." -- Angelo Digiulian, Spruce Point Inn
Boothbay Harbor, Maine (PRWEB) July 26, 2013
Spruce Point Inn, the highly rated 57-acre oceanfront resort in Boothbay Harbor, Maine helps guests customize their "oceanside memories made in Maine" with packages built around specific vacation experiences. This September, photographers (both casual and professional) have the opportunity to work with award-winning photographer David Marx on a three-day Coastal Maine Photography Seminar, exploring the iconic built and natural landscape of the Maine Mid-coast.
Each day, the photographer will lead a small group on the Inn's motorlaunch Bright Line to a different location: Squirrel Island, Ram Island, Damariscove, Burnt Island and its lighthouse, the docks of Boothbay Harbor with their yachts and lobster boats and Spruce Point itself. (For the itinerary and an interactive map, click here.) Along the way David Marx will discuss contemporary photography techniques and critique the seminar participants' work.
Presented September 18-21, 2013, the Coastal Maine Photography Seminar Package includes three nights accommodations, all meals, seminar fees, daily transportation to the photography sites, use of all the Inn's amenities including two swimming pools, Har-Tru tennis court, sea kayaks and bicycles. Rates including taxes and gratuities from $1,500 single occupancy ($2,215, double).
David Marx teaches digital photography workshops and founded the Adobe Photoshop Lightroom Lab and training classes. He has taught photography at the Rocky Mountain School of Photography since 2002. His moody images of Pemaquid Point and Marshall Point Lighthouses are immediately identifiable. "Oh, Maine. SO beautiful. 'The way life should be,'" is how David describes working with Maine subjects. Over the years, David has led photography programs for the American Society of Media Photographers, the Wilderness Institute at the University of Montana, FirstLight Photography Workshops, and Blackberry Farm.
"As we help guests create 'oceanside memories made in Maine' we like to offer different ways of seeing Spruce Point Inn and our beautiful surroundings here in Boothbay," said Angelo DiGiulian, innkeeper for Spruce Point Inn. "This photography seminar is one of many experiential packages we have planned to give our guests a special immersion in our destination that leaves them with an even more authentic sense of place. Plus we know that David's entertaining teaching style matches our own hospitality culture and works well for photography students of all skill levels."
Spruce Point Inn is known for its spectacular location on the Maine coast, its selections of accommodations (in classic cottages, historic Inn rooms, family townhomes and comfortable lodges) and its full complement of resort amenities and activities for families, couples and individual guests. For more information on the Coastal Maine Photography Seminar with David Marx and to make reservations, call 800-553-0289.
About Spruce Point Inn (http://www.sprucepointinn.com)
In operation for more than 100 years, Spruce Point Inn is a distinctive and historic vacation destination for travelers from all over the United States. Its relaxing facilities have long been a part of the summer community and a backdrop for delightful "oceanside memories made in Maine." Located in the seafaring village of Boothbay Harbor, Maine (an hour north of Portland) and situated on 57 acres of stunning oceanfront and sheltering pine forest, the resort is a retreat of 56 modern guestrooms in eight lodges, 8 classic cottages, 9 Inn rooms and suites, and 4 townhouses. The convenient location, peaceful setting and spectacular coastal views have made Spruce Point Inn a premier resort for families, reunions, weddings and business events. For reservations, call 800-553-0289 or visit http://www.sprucepointinn.com.