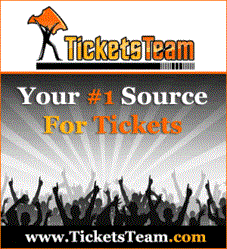 As their new Lightning Bolt tour makes its way throughout the United States, Pearl Jam tour tickets are are a hot item at TicketsTeam.com, and are now in stock.
Pittsburgh, PA (PRWEB) July 26, 2013
Rock band Pearl Jam has just embarked on their new tour since 2009. The Lightning Bolt tour is in support of their album which releases on October 15, 2013. The tour began in Ontario and winds hits several states, before ending in December in Seattle, Washington, the band's hometown. Pearl Jam tour tickets 2013 are available on sale at TicketsTeam.com.
Full schedule for the Pearl Jam The Lightning Bolt tour 2013:
October 11: Consol Energy Center in Pittsburgh, PA;
October 12: First Niagara Center in Buffalo, NY;
October 15: DCU Center in Worcester, MA;
October 18 & 19: Barclays Center in Brooklyn, NY;
October 21 & 22: Wells Fargo Center in Philadelphia, PA;
October 25: XL Center in Hartford, CT;
October 27: 1st Mariner Arena in Baltimore, MD;
October 29: John Paul Jones Arena in Charlottesville, VA;
October 30: Time Warner Cable Arena in Charlotte, NC;
November 15: American Airlines Center in Dallas, TX;
November 16: Chesapeake Energy Arena in Oklahoma City, OK;
November 19: Jobing.com Arena in Glendale, AZ;
November 21: Viejas Arena in San Diego, CA;
November 23 & 24: Los Angeles Sports Arena in Los Angeles, CA;
November 26: Oracle Arena in Oakland, CA;
November 29: Rose Garden in Portland, OR;
November 30: Spokane Arena in Spokane, WA;
December 2: Scotiabank Saddledome in Calgary, AB;
December 4: Rogers Arena in Vancouver, BC;
December 6: Key Arena in Seattle, WA.
While only on their 2nd stop, Pearl Jam is already experiencing big numbers at the box office, with two sold-out nights. The Chicago stop had tickets sold out within hours and is the quickest-selling event in Wrigley Field history, with 9,700 fans enjoying a mix of the band's greatest hits and music from their new album.
Widely considered one of the most influential rock bands of all time, Pearl Jam has been going strong since 1991. Right in the center Seattle for one of the greatest eras in music – grunge – Pearl Jam released their first album Ten in 1991, and instantly critics started taking notice. Two of their biggest songs "Jeremy" and "Alive" became hit singles, and the album stayed on the Billboard Magazine charts for two years. The band appeared on Saturday Night Live in 1992, toured in support of the album and had two songs used in Cameron Crowe's film Singles. Their 2nd album Vs sold over 950,000 copies the first week, despite the band's staunch refusal to make music videos, citing it destroyed a listener's inner perception of the song. While touring, their 3rd album, Vitalogy, and launched a very-public tirade against Ticketmaster, for their convenience fees, refusing to play at any venues affiliated with the ticket vendor. The band released their follow-up albums No Code, Yield and a live album, Live on Two Legs in the following years. Their cover of "Last Kiss" became a in-demand single and all proceeds from its sale went to Kosovo War relief. Several more albums including Binaural, Riot Act, and Pearl Jam followed. Throughout their career the band has changed drummers over five times, but the original members Eddie Vedder, Stone Gossard, Jeff Ament, and Mike McCready have stayed together.
Pearl Jam is considered the picture of the modern rock star: confident, driven to entertain their lives, and in rejection of their success. As their new Lightning Bolt tour makes its way throughout the United States, Pearl Jam tour tickets are are a hot item at TicketsTeam.com, and are now in stock.
Pearl Jam, their members and promoters are not affiliated with TicketsTeam.com.