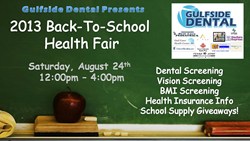 Beaumont, TX (PRWEB) July 26, 2013
We may be in the middle of the summer, but the time for back-to-school prep is fast approaching. Gulfside Dental is hosting its first annual Back-to-School Health Fair. The free fair is scheduled for Saturday, August 24, 2013 from 12 p.m. to 4 p.m. at Parkdale Mall in the sunken court, 6155 Eastex Freeway in Beaumont, Texas.
Gulfside Dental will be providing free limited dental examinations for students. This examination will fulfill the MET Head Start requirements for BISD.
A variety of back-to-school services will be offered on this day including:

Vision Screenings
BMI Screening
Exercise and Nutritional Counseling
Blood Pressure
Health Insurance Information
School Supply Giveaways
This community health fair has a special Back-to-School theme with a goal of preparing students and their families for a healthy start to the school year. The health fair provides an opportunity for the surrounding community to learn how to improve their health while also learning about health services available in their own backyard. "Most families are thinking about school supplies and back-to-school clothes, but the back-to-school season is a great time to focus on the annual check-ups that all children need," says Dr. Ashley DeMarco of Gulfside Dental. "We hope that the health fair will give parents an opportunity to get some of the important screenings done in one stop." Attendees will also enjoy entertainment, workshops, and games. Lifeshare Blood Center will be set-up to receive blood donations.
New attractions are still being added. If your business would like to be a part of this exciting event, please contact Cheryl Garth at 409-899-4867.
Gulfside Dental is a family dentistry located in Beaumont (link: http://www.gulfsidedental.com/index.php/services) on Dowlen Road. The office offers comprehensive, specialized dental care for all ages. General dentistry services include oral exams and X-rays, teeth cleaning and polishing services, tooth extractions, emergency dental care, and more. Specialty and cosmetic dentistry like oral sedation, endodontics, orthodontics, Lumineers, and Zoom! Teeth whitening services are also among the choices for those looking to straighten and brighten their smile.
About GulfsideDental
Gulfside Dental is located in Beaumont, and provides general, specialized, and cosmetic dentistry services for all ages. Doctors Ashley DeMarco and Victor Ticas III were born and raised in Houston, and together work to provide comprehensive, individualized care to the local community. To make an appointment or to learn more information, call 409-899-4867.