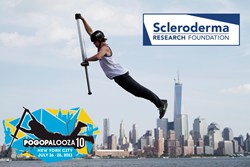 By linking a rare disease such as scleroderma to the niche sport of extreme pogo, people who attend or read about this are sure to learn something new.
New York, New York (PRWEB) July 25, 2013
On Friday, July 26, 27-year-old extreme pogo athlete James Roumeliotis of Lynnfield, Massachusetts, will attempt to break the world record for most consecutive bounces on a pogo stick without rest in New York City's Washington Square Park. His stunt will kick off Pogopalooza 10, the annual three-day world championship of the sport of extreme pogo and is intended to help raise funds and awareness for scleroderma—a rare and often life-threatening autoimmune disease in the same category as lupus and rheumatoid arthritis.
Roumeliotis will begin his "bounce to a cure" on Friday at 8:50 A.M. EDT. Representatives from Guinness Book of World Records will be on site to authenticate the record. Those unable to attend in person can follow a live bounce tracker on his website at http://www.bouncetoacure.com. Visitors are encouraged to support Roumeliotis' efforts by making a donation in his honor to the Scleroderma Research Foundation, a San Francisco-based nonprofit dedicated exclusively to funding medical research aimed at improved therapies and a cure for scleroderma.
The current verified world record stands at 70,076 bounces without loss of balance or rest over 10+ hours and was set by William Hanrahan of Waterford, Connecticut in 1976.
Of his stunt, Roumeliotis says, "There are many people raising money and awareness for certain types of cancer and other very high profile diseases but there aren't enough people doing unique, high profile things for rare diseases that can be just as devastating to families and individual patients. I hope my attempt inspires others to step outside their comfort zone to do something that will raise awareness."
Roumeliotis is not a scleroderma patient and his connection to the disease began with a friend's mother from college. "Until then," he says, "I had never heard of it. But I realized this was no ordinary illness."
Scleroderma is a Greek word that translates to "hard skin," but the disease is much more than that, often affecting internal organs with life-threatening consequences. Four out of five patients are female, most with onset between the ages of 20 and 50. However, the disease also affects men and children across all ages and ethnic boundaries.
Scleroderma is characterized by scarring caused by excessive fibrosis in the body's connective tissue, leading to sometimes crippling vascular damage. Depending on the subtype of illness, scleroderma can cause severe damage to the lungs or kidneys. In most patients, the gastrointestinal tract is affected and it can impact the ability to consume solid food. Peripheral vascular damage due to scleroderma is nearly universal and can result in loss of fingers, toes and, sometimes, entire limbs. Like many other autoimmune diseases, scleroderma is chronic, not contagious or directly hereditary and dominating fatigue is common. There is currently no cure; scientists are working to find out how the disease begins, how it progresses and what can be done to slow, stop or reverse the crippling disease.
"I've seen the suffering caused by scleroderma and it, like so many other diseases, needs more attention," he says. "I'm excited to introduce people to scleroderma and the work of the SRF (Scleroderma Research Foundation)."
Roumeliotis recently joined Cure Crew, a volunteer fundraising program offered by the SRF that provides families and individuals with the tools to turn passions and unique talents into fundraising and awareness success to help scleroderma patients.
The SRF was founded in 1987 by patient Sharon Monsky who lost her battle to the disease in 2002. It has since become America's leading nonprofit investor in scleroderma research, raising more than $32 million to help fund and facilitate the most promising scleroderma research at prestigious institutions across the U.S. and abroad.
For more information, call 1-800-441-CURE or visit http://www.sclerodermaRESEARCH.org. Follow the SRF on Facebook and Twitter.