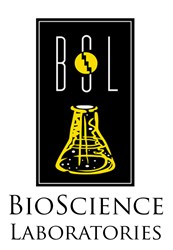 Bozeman, MT (PRWEB) July 29, 2013
BioScience Laboratories, Inc. (BSLI) testing labs develops new in-vitro biofilm model. The goal of this research project was to adapt the Colony/drip-flow biofilm reactor (C/DFR) by replacing the growing surface with a sample of sterilized pig skin to more closely emulate an actual wound.
Chronic wounds represent a major health concern as well as a financial burden to patients and the healthcare system because they have unpredictable healing patterns and are prone to microbial infections. These wounds affect about 1% of the US population and treatment costs billions each year.
The presence of biofilms in chronic wounds has been implicated in hindering the healing process and reducing the effectiveness of topical antimicrobials. New products are continually being made to disrupt activity of biofilms in chronic wounds, leading to more efficient care.
The efficacy of these products must be tested, in-vitro, before they can hit the market. Currently, the (C/DFR) represents one of the best models of a chronic wound and can be optimized to provide appropriate media, flow, temperature, microorganisms, and surface for a biofilm to form.
The surface is important because the model should best represent that of a wound. From its initial development, the drip-flow reactor (DFR) (Goeres et al, 2009), which uses a glass slide as the biofilm surface, has progressed to a C/DFR which uses a filter membrane that sits on top of an absorbent pad (Agostino et al, 2011). The pad absorbs media and wicks it up to the membrane, much more like a wound near the surface of skin.
Using pig skin, rather than a surface from a filter membrane, is a positive transition and a change in the right direction. Although the pig skin is not in an actively growing state, the texture and surface area exemplify how it is a better model. Antimicrobial products can then be tested for efficacy against the biofilm that grows on this surface, thus illustrating how it would perform on an actual wound.
Recently, BSLI scientists successfully grew a Pseudomonas aeruginosa biofilm on pig skin sample and subsequently tested various wound care products. Moving forward, using the pig skin model, BSLI plans to grow other species of bacteria that commonly grow in wounds and compare health care products that aide in the inhibition and/or destruction of biofilm formation as a means to continue the development of an in-vitro model that better simulates a chronic wound.
About Bioscience Laboratories, Inc.
Since 1991, BSLI testing labs have conducted investigative studies for both standard and customized in-vitro and clinical studies, proving product safety and efficacy on a wide range of products spanning the public consumer industry, healthcare industry, food-handling industry, and the cosmetics market. They are recognized as a leading authority for topical antimicrobial testing: an estimated 90% of all hospital-related topical antimicrobials have been tested at BSLI.
References
Agostino A.M., Hartman A., Lipp C., Parker A.E., Stewart P.S., James G.A. (2011) An in vitro model for the growth and analysis of chronic wound MRSA biofilms. J of Appl Micro 111, 1275-1282.
Goeres D.M., Hamilton M.A., Beck N.A., Buckingham-Meyer K., Hilyard J.D., Loetterle L.R., Lorenz L.A., Walker D.K., James G.A., Swogger E., Wolcott R., Pulciny E., Secor P., Sestrich J., Costerton J.W., Stewart P.S. (2007) Biofilms in chronic wounds. Wound Repair and Regeneration 16, 37-44.