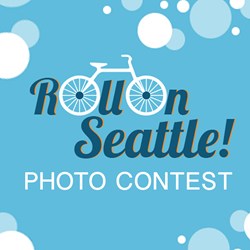 Verity is deeply connected to its community and team members, and offers cost-effective financial solutions that fit members' lifestyles—which, in Seattle, include bikes.
Portland, OR (PRWEB) July 27, 2013
CafeGive Social and Seattle's Verity Credit Union are celebrating all things cycling with the launch of their "Roll On Seattle" Bicycle Photo Contest.
"Roll On" gives community members the chance to show off their bikes through a month-long photo contest. Starting July 25th, Verity CU Facebook followers can submit photos of their favorite cycles, and encourage their friends and family to vote for their submissions. Through August 22nd, Verity fans can submit their photos in one of four categories: Racing, Commuting, Recreation, and Slogans. Verity Credit Union will give away a $250 gift card to Gregg's Cycles to the winner in each category.
For each of the first 100 entries to the campaign, Verity will also contribute $5 to BikeWorks Seattle, a nonprofit dedicated to sustainability initiatives, bicycle education and safety.
"It's exciting to be able to build applications and campaigns that help credit unions like Verity support their communities and give back," said Sandra Morris, CEO of CafeGive Social. "The 'Roll On Seattle' contest is exciting because Verity can engage its community around a topic that expresses what it means to be a Seattleite, and Verity fans can give to a good cause just by submitting their bicycle photos. It is another step in our vision to create social media experiences that make a difference."
Using CafeGive Social's Photo Contest App for Facebook, Verity makes it easy to enter the contest and encourage friends to vote for photo entries. The crowdsourcing app uses votes to pick the top three entries in each category. Verity and CafeGive will help select the winners.
"CafeGive is the perfect partner to help us create an experience that makes it easy for our fans to support and share Seattle's love of bikes, and make a difference by giving back to a local nonprofit, said Melina Young, Director of Marketing, Verity Credit Union. "It was easy for us to launch a custom branded contest on their platform, and their social sharing helps us reach a broad audience."
BikeWorks Seattle has been working to create a safer, more cycle-friendly Seattle for kids, bikes, and the community since 1996. By posting your photos to Verity's campaign, you can help BikeWorks continue to run empowering and eco-conscious programs like "Earn A Bike For Youth", "Kidical Mass", and adult and family repair and bike-building workshops.
Verity Credit Union has been a part of Seattle since 1933, and understands the importance of bicycles to its members' lives, helping members with bike loans that range from $500 to $7,500. As a member-owned institution, Verity is deeply connected to its community and team members, as well as to offering cost-effective financial solutions that fit members' lifestyles—which, in Seattle, include bikes.
The "Roll On Seattle" contest details and guidelines for submitting your photos can be found here: https://www.facebook.com/veritycu/app_1402130806667742.
About Verity Credit Union
Verity has been serving members of the greater Seattle area since 1933. With branches from Alderwood to Auburn, Verity's mission is to enhance members' lives through exceptional financial services. Anyone who lives, works or attends school in Washington state can become a member. Please visit Verity Credit Union to learn how: https://www.veritycu.com/
About CafeGive Social
CafeGive is the only company that combines social media marketing with social fundraising apps to increase the impact of cause marketing campaigns. Our product, CafeGive Social, helps businesses, nonprofits and marketing agencies quickly execute and measure branded social campaigns. CafeGive has helped companies, agencies and nonprofits of all sizes connect with consumers in a meaningful way that builds brand and reputation, raises awareness and money for causes to effect social change. Headquartered in Portland, Oregon, CafeGive is a privately held company. For more information, please visit CafeGive, http://www.cafegive.com.