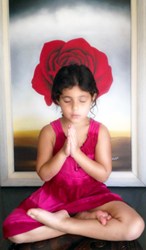 "The program will empower children and provide them life-long tools to achieve well-being, cope with stress and learn compassion." Dr. Thomas Felix
Worcester, Massachusetts (PRWEB) July 30, 2013
After their son, Gabriel Valentine Felix, was still born at eight months due to a heart arrhythmia, Dr. Thomas Felix, wanted to help other children with comorbid conditions. He made a generous contribution to Ivy Child International to launch the Yoga and Mindfulness Program, which has been named in Gabriel's honor.
Felix, a regulatory policy director at Amgen, and brother of Ivy Child International Founder, President and CEO Rose Pavlov, has been a long-time supporter and board member of the organization, which was established in 2011 with the mission of helping every child achieve their best.
"The program will empower children and provide them life-long tools to achieve well-being, cope with stress and learn compassion," he said. "This is a non-pharmaceutical intervention supported by research, and we are so proud that Gabriel's memory will live on through this program."
The Gabriel Valentine Felix Yoga and Mindfulness Program helps children learn mindfulness meditation and use it effectively to reduce stress and lessen pain. It also teaches them to cultivate their own self-awareness by enhancing their imagination and empathy while fostering the joy of movement. Children have fun and move their bodies in a non-competitive environment.
"We designed this program as a response to increasing cases of aggression, anxiety, and depression among young children," said Pavlov. "Today's children are faced with a variety of challenges that are difficult to cope with and have an impact on their social, emotional, academic and behavioral development. Through this unique program we are teaching them to navigate the seasons of life. It is profoundly meaningful to me that we are helping children as a part of my nephew's legacy."
There is a growing body of research that supports the benefits of mindfulness in a multitude of health conditions such as, oncology, anxiety, depression, obesity, PTSD, autism, substance use, impulsivity, achievement, learning disabilities, chronic pain, and ADHD cases. The program will be offered in pediatric hospitals (inpatient and outpatient clinics) and schools to help children tune into their bodies and regulate their emotions, thereby strengthening their emotional intelligence.
For more information, please contact Ivy Child International at info(at)ivychild(dot)org.
About Ivy Child International (Ivy Child) is a non-profit organization working to enhance the social and emotional well-being of children worldwide by recognizing their multicultural needs, and using education rooted in positive psychology as a uniting force to inspire resilience and leadership. We develop innovative programming for hospitals, healthcare centers and schools, which feature yoga, mindfulness, music and art. Learn more about SUPPORTING Ivy Child's work here.
Join our global community on Facebook.
Follow us on Twitter.
Connect with us on LinkedIn.
Support us through iGive.