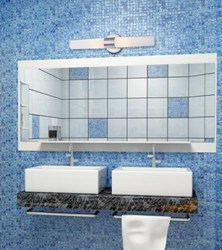 Los Angeles, CA (PRWEB) July 31, 2013
The trend in bathroom design today is toward elegant, spa-like spaces. Essential to this is lighting. It not only facilitates the basic tasks of cleaning, grooming and primping; when done right, it is elemental to creating a soothing atmosphere in the most private of spaces in the home. For consumers about to embark on a home redesign project, longtime retail leader Lamps Plus offers consumers five bathroom lighting ideas, ranging from practical solutions to style advice.
First and foremost on the agenda is brightening the mirror area. Vanity lighting should be soft, warm and plentiful. "Flank the mirror with decorative bathroom sconces at face level for the most even fill light," explains Manja Swanson, Chief Creative Officer for Lamps Plus. "Above the mirror, a bath bar light is an absolute must for most bathrooms, especially ones in which space doesn't permit sconces." To keep the light even, Swanson advocates for designs with etched glass diffusers.
For general illumination, look no further than overhead. Bathroom ceiling light fixtures provide excellent coverage of the room while taking up very little airspace. "Increasingly, our customers are interested in energy efficient CFLs and LED lights, but they always ask: is the light 'color' too harsh?" says Swanson. "In fact, LED lighting is now being produced regularly in the 'warm' 2,700-3,500K range." For CFL bulbs, Swanson recommends subtly colored champagne glass to soften the light.
For a more ambitious DIY project, recessed lighting offers the benefits of ceiling lights with a customizable touch. "Recessed cans can be installed in different parts of the ceiling. Install them on a separate dimmer switch so you can adjust the mood in the room," says Swanson. "Used to supplement other lighting in the bathroom, recessed fixtures help to add eye-pleasing layers to your space."
For an even more effective way to add layers, low voltage halogen track heads provide the perfect crisp white light. Mounted on track style fixtures, this type of halogen lighting can be focused on specific areas in the room, such as wall art, shelves, back lighting for bathroom mirrors and more. "Directional track lighting creates layers by highlighting certain aspects of your bathroom while allowing others to recede. For a natural quality light, halogen is your best bet," explains Swanson.
"With your lighting plan in place," explains Swanson, "it's time to think about ambiance. Our customers are increasingly choosing the luxe look of a chandelier or pendant in the bathroom." For soft illumination late at night and early in the morning, Swanson recommends installing accent lighting behind the mirror. "This softly diffused look is very common in hotel applications. For an easy way to get the look, Lamps Plus carries LED tape light kits that can be affixed to the overhanging undersides of a mirror."
The lighting tips above promise to add up to a stylish and functional bathroom setup. To guarantee that the space is safe and clean for years to come however, consumers want to be aware of a few final things when designing their bathroom. Because bathrooms are subject to steam, proper ventilation and is a must. Local ordinances will vary, but windows, bathroom exhaust fans, or a combination of the two is usually required for a bathroom to be up to code. Lighting and fans should also be "wet-rated" or "shower-rated" for use over a bathtub or shower. These UL listed fixtures are specially designed with extra electrical shielding and lens covers for added safety in the presence of moisture.
"Our bathroom lighting ideas are just a start. It's up to each person to discover a style that's all their own," concludes Swanson. "If they should ever have a question, consumers can always call our lighting experts at 800-782-1967 for advice."
About Lamps Plus
For more than 30 years, Lamps Plus has been synonymous with excellence in the retail lighting industry. Established in 1976, Lamps Plus is the nation's largest specialty lighting store, with more than 40 superstores throughout the western United States. In 2013, LampsPlus.com was named a Top 10 Housewares/Home Furnishings e-tailer and a "Hot 100" world's best retail website by Internet Retailer Magazine. Together with its retail locations, the company serves customers nationwide with the largest selection of functional and decorative lighting fixtures, accessories, furniture and home decor. This selection includes hundreds of products, ranging from traditional chandeliers to the latest in home decor, available exclusively from Lamps Plus. The company also holds several patents for innovative lighting. Services offered include in-home lighting consultations, in-store workshops and installation from expert, licensed electricians. American Lighting Association certified designers are available to offer product recommendations and advice in all our stores, by phone or online at LampsPlus.com. The Lamps Plus family of websites also includes 55 Downing Street, Lighting Luxury Style, Builders Discount Lighting, and Lamps Plus Open Box. Visit the official Lamps Plus website: http://www.lampsplus.com.