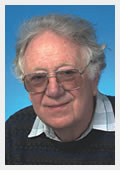 Tampa, FL (PRWEB) July 26, 2013
Delegates will gain from the vast knowledge of Nobel Laureate, Dr. Oliver Smithies, during his plenary session "Where Do Ideas Come From" at ISPE's Biotechnology, a two-day Symposium August 27-28, 2013 in Durham, NC.
Smithies is the Weatherspoon Eminent Distinguished Professor of Pathology and Laboratory Medicine at University of North Carolina. In the 1950s, he described the first high resolution electrophoresis system (starch gel), and discovered that normal humans have unsuspected inherited differences in their proteins. His technique of starch-gel electrophoresis opened vast areas of new study. With this technique, Smithies uncovered protein polymorphisms in normal persons and worked on the heredity of several blood proteins.
In 1985, Smithies described his second ground-breaking technique – the use of homologous recombination to alter a human gene in a living cell. With this technique, he has determined how genes affect blood pressure in healthy persons, and how the same genes influence the kidney problems that affect some people with diabetes.
In addition to Smithies' presentation, Dr. James Talton, CEO Nanotherapeutics and David Doleski, Director, Division of Good Manufacturing Practice Assessment, CDER, FDA, will present. Talton is a co-inventor of Nanotherapeutics' technologies and has several authored peer-reviewed publications and book chapters involved in drug delivery systems with a primary focus in drug analysis and controlled release formulations, pharmacokinetics, and pulmonary drug delivery.
"These expert speakers will serve as outstanding leads into this new conference that explores advances in biopharmaceutical manufacturing, facility design and integration to help companies develop and validate future projects and next-generation manufacturing systems," said Nancy Berg, President/CEO of ISPE.
Attendee registration is open. Those interested can learn more at http://www.ISPE.org/2013BioTechConference.
About ISPE
ISPE, the International Society for Pharmaceutical Engineering, is the world's largest not-for-profit association serving its Members through leading scientific, technical and regulatory advancement throughout the pharmaceutical lifecycle. The 20,000 Members of ISPE are building solutions in the development and manufacture of safe and effective pharmaceutical and biologic medicines and medical delivery devices in more than 90 countries around the world. Founded in 1980, ISPE has its worldwide headquarters in Tampa, Florida, USA and offices in Brussels, Belgium, Singapore and Shanghai, China. Visit http://www.ISPE.org for more information.
###