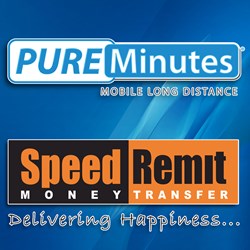 This alliance continues the tradition of both companies providing consumers with high quality service.
New York, NY (PRWEB) July 26, 2013
Pure Minutes and Speed Remit are proud to announce a partnership that unites affordable international calling solutions with one of the world's most trusted money transfer services. This strategic alliance helps connect Pure Minutes with Speed Remit's presence at more than 100,000 payment points in over 100 countries around the world and growing.
Incorporated in 2004, Speed Remit Worldwide Limited (link), based in the United Kingdom, is a global home remittance web-based money transfer service. Speed Remit offers fast, simple and reliable money transfers and responds to the growing demand of those employed around the world seeking to send money back to their near and dear ones. It uniquely caters to the diversified needs of expatriate populations and leverages its home country's strategic position on the world map to connect and grow with the rest of the world.
Speed Remit has redefined convenience in speed, security, and service and as a result earns its status as one of the world's most preferred global money transfer companies. Their money transfer facilities around the world allow beneficiaries to receive remittances anywhere in the world at highly competitive rates within 24-48 hours. Speed Remits dedication to maintaining long term relationships with their customers by providing value for money and services shines with their decision to work with Pure Minutes.
"The venture allows Pure Minutes to deliver its signature low international rates directly through merchants and distributors of the Speed Remit network available around the United States & Canada," states Mr. Praveen Chandiramani, Founder & CEO of Speed Remit Worldwide. "Through this mutually beneficial partnership with Speed Remit, we are able to reach out to customers worldwide," shared Senior Business Development Executive Arturo Velasco. "This alliance continues the tradition of both companies providing consumers with high quality service, a notion that has always been a hallmark of Pure Minutes."
Users benefit from the simplified process of purchasing a phone to making an affordable international call without contracts or obligation. The system works with any phone number regardless of the current provider which means users don't have to change their current landline or mobile cell phone number.
Subscribed callers simply dial a local access number and through modern "Automatic Caller Identification" software we can recognize a subscribed caller making the need for complicated PIN codes a thing of the past. To learn more about PURE Minutes and their exclusive system which eliminates the need for complicated PIN numbers visit our website at (pureminutes.com).
About Speed Remit
Speed Remit Worldwide is a Financial Service Authority (FSA) regulated, ISO 9001:2008 certified Remittance Company based in the United Kingdom with money transfer licenses and interests in the USA, United Kingdom, Australia, Canada, Hong Kong and Kuwait. As an International Money Transfer company, Speed Remit has earned trust and confidence of its customers over the past few years. Speed Remit presently has a network of 100,000+ payment points across 100+ countries with over 2 million customers. Speed Remit is one of few companies in this industry to achieve this in such a short span of time. Speed Remit has 11 owned offices in other countries covering 5 continents.
About PureMinutes
PURE Minutes is a leading provider of prepaid international long-distance calling solutions. We provide an affordable communication solution that offers flexibility, portability and ease-of-use for both landline and mobile users. PURE Minutes offers competitive international calling worldwide with no hidden fees, no maintenance fees, no contract required, and minutes that never expire. PURE Minutes service is sold on the web and through regional and national retailers including MoneyGram, La Nacional and payXchange and is available to customers worldwide in and in Spanish and accepts payments through all major credit cards and Paypal.
Follow us on Twitter (@PUREMinutes), Facebook (facebook.com/PUREMinutes), and LinkedIn (PUREMinutes, LLC) for up to the minute updates.
###