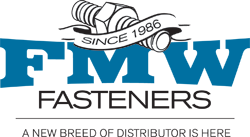 Houston, TX (PRWEB) July 26, 2013
These cotter pins consist of a double bodied pin formed from half-round wire, a loop at one end of which provides a head. The finished part has one end of the wire extending beyond the other end, with a chiseled point. Cotter pins are used to anchor various assemblies by insertion into a drilled hole of a shaft or pin and spreading the points to hold the assembly in position. When used with castle or slotted nuts, it becomes a safety locking device.
Currently available in plain finish, zinc plated and 18-8 stainless steel for applications where corrosion resistance is needed.
FMW Fasteners offers free shipping on orders over $25.00 and flat rate $5.00 shipping on orders under $25.00.
FMW Fasteners is your online source for premium fastener products, to include anchor products, nuts, bolts, socket products and screws. Founded in 1986 in Houston, Texas, FMW Fasteners stocks premium products by Brighton-Best, Simpson Strong-Tie Anchor Systems, ITW Buildex, Intercorp, Toggler® Anchor Systems, FastenMaster and many more. For more information, visit http://www.fmwfasteners.com or follow FMW Fasteners for updates and promotions on Twitter, Google+ and Facebook.