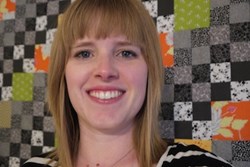 I am excited to join the high-energy team of quilting enthusiasts this company has developed
Omaha NE (PRWEB) July 27, 2013
Social media has made it easier than ever before for quilters and fabric crafters to communicate, no matter where they are around the globe. AccuQuilt has always been active in the quilting community and has recently hired Ellen Rushman as their Social Media Specialist.
Ellen is in charge of managing AccuQuilt's social media outlets, creating an interactive community that can connect with the company as well as with each other. Rushman also has a host of social media outlets to work with including Facebook, Twitter, Pinterest, blogs, video sites, and more.
Rushman graduated from the University of Nebraska in Lincoln with a Master's degree in textile history with a focus in quilt studies. Her research focused on the modern quilting movement. In 2011, Rushman along with classmate Madeleine Roberg (also an AccuQuilt employee) started a blog called "The Printed Bolt" where the two hosted online fabric design competitions for pattern designers around the world.
"I started working at AccuQuilt in June and I am excited to join the high-energy team of quilting enthusiasts this company has developed," Rushman said. "My role as Social Media Specialist allows me to interact with quilters online every day. Seeing what people are making, where they are finding inspiration, and how AccuQuilt plays a role in their creativity is exciting and fun."
With the emphasis that companies are placing on social media, Rushman's position is more important than ever before. She will play a crucial role at AccuQuilt by focusing on consumer interaction and a personal connectivity with the company that only a few years ago didn't exist. Her tools may be electronic, but through real-time updates, video creation, and blogs, Rushman will be making AccuQuilt the social media center that stitches together a world-wide family of quilters and fabric crafters.
About AccuQuilt
Better Cuts Make Better Quilts:
Headquartered in Omaha, Neb., AccuQuilt offers quilters, fabric crafters and retailers a premiere line of fabric cutters, dies, quilting patterns and other quilt and fabric cutting solutions that help quilters quickly and accurately cut shapes for quilting and fabric crafts. AccuQuilt also offers quilters a wide variety of rich educational resources to enhance their quilting experiences. Cutting with AccuQuilt cutters is a natural evolution of fabric cutting methods. "First scissors…then rotary…finally…AccuQuilt" for fast, easy, accurate fabric cutting.