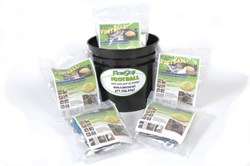 When an industrial leak needs to be stopped fast, nothing works better than FlowStop's new Golfball and Football plugs.
Denver, NC (PRWEB) July 31, 2013
In response to the enormous reception for FlowStop's new Football pipe plug, FlowStop has now introduced a smaller version, the Golfball. This new polyurethane impregnated, water-activated foam plug is designed to contain spills in holes up to one and one half inches in diameter.
Both the Golfball and Football plugs have revolutionary qualities that will temporarily stop the flow from a leak in anything from a pipe, to a tanker, to a rail car -- even a boat hull! What makes both products so unique is that they start as a pliable plug that can be easily inserted into a void. Then it quickly expands and hardens to fill the void, taking the shape of a golf ball or small child's football. The versatile repair plug can even be applied below the water line!
The FlowStop Golfball and Football provide many significant benefits to the spill containment and marine industries as well as fire departments, HazMat teams, first-responders and clean-up crews. They are ready to use immediately, with no mixing or other prep work required. The application is fast, simple and mess-free. Most important of all, they set rock hard in under three minutes – and work for all types of accidents, punctures and leaks.
FlowStop's Golfball and Football plugs are also making a major impact in the towing industry when large truck fuel tanks are damaged in roadway accidents.
The new plugs are now available in Kits that come in a 3 ½ gallon portable plastic water bucket with lid along with step-by-step instructions and protective gloves. Each Kit can be customized to include a mix of both products or just one size, up to six in a bucket. The Golfball and Football plugs come in foil packets. Once submerged in water for just 5 seconds the yellow-foam is used to plug the hole -- curing in less than three minutes in temperatures ranging from 32 to 160 degrees Fahrenheit. Remaining Golfballs or Footballs can be easily stored in the bucket for future use.
Both plugs provide excellent resistance to gasoline, kerosene, diesel, formaldehyde and other urethane chemicals and toxins.
"When a leak needs to be stopped fast, nothing works better than our new Golfball and Football plugs," says Perry Beaty, president of FlowStop's manufacturer, Logos Inc. "They're amazingly fast and have proven to abort crisis situations more effectively than anything else on the market. Everyone who has used them is impressed by their speed and effectiveness. We're proud to add the FlowStop Golfball along with the Football to our product line of pipe plugs."
FlowStop is an industry leader in handling flow control, spill response and the evacuation or flushing of hazardous liquids. Its signature product is a unique inflatable pipe plug designed to make flow control, containment and remediation faster and more effective than any previously available solution. FlowStop's Round and Elliptical models
are light weight, compact and simple to use. The innovative design technology includes Thermo PolyUrethane construction which, unlike rubber, won't gum up or eat through the plug – and is impervious to hydrocarbons and 99% of known chemicals.
The FlowStop units combine to contain contaminants in pipes from 6 to 48 inches. All models are housed in a waterproof, weather-resistant case containing all the components necessary for quick and easy operation. There are no other products comparable on the market.
About FlowStop
Based in Denver, North Carolina, FlowStop is originally known for its inflatable pipe plug designed to manage flow control, containment, remediation, spill response and evacuation/flushing. It also simplifies drain line maintenance. Fema Grant-approved, the patented design includes single and dual 2 inch flow-through ports for serving non-pressurized pipes. The models not only arrest unwanted contaminants in storm drains. They also turn the storm drain into a containment tool – thereby simplifying the control and remediation process!
The new FlowStop "Golfball" and "Football" Plugs are the newest products in the line, controlling leaks more quickly, easily and accurately than any other product available anywhere. To learn more, visit http://www.FlowStop.net or call 877 356-9767.