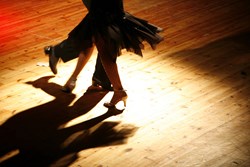 Throughout the competition, they will be showcasing their skills and techniques in a variety of ballroom and Latin style dances to a panel of 10 judges
Toronto, Ontario (PRWEB) July 27, 2013
Students of Arthur Murray Dance Studios are flying to Monaco to participate in the the Arthur Murray Monte Carlo Dance-O-Rama. The competition, which takes place over a five day period, begins on July 24.
A total of 50 students from around the world will be in attendance, six of whom are from Arthur Murray Toronto-area studios, including Etobicoke, Yorkville, North York and Woodbridge, representing team Toronto. Throughout the competition, they will be showcasing their skills and techniques in a variety of ballroom and Latin style dances to a panel of 10 judges. Judges will be in attendance from studios in Turkey, Jordan, Italy, Poland, Ukraine and Canada, including Toronto's own Lisa MacLaggan. MacLaggan is the district leader for Arthur Murray International as well as the owner of Arthur Murray Etobicoke and Yorkville.
The students of Team Toronto will also have an opportunity to explore the sights and sounds of Monte Carlo. Staying at the Fairmont Monte Carlo, they will be taking part in organized local tourist activities on a daily basis as well as themed evenings, absorbing the local culture.
For more information about Arthur Murray Dance Studio Etobicoke and the student opportunities, visit http://www.arthurmurrayetobicoke.com.
About Arthur Murray Etobicoke
For over 100 years, Arthur Murray Dance Studios have been offering professional ballroom dance instruction in both private and group settings. The Arthur Murray approach is the world's most proven method for teaching dance, with millions of successful students worldwide. It focuses on building a strong foundation first and foremost to help even the most inexperienced dancers pick up ballroom dance with ease and confidence. At Arthur Murray Etobicoke, we believe dance is an expression and celebration of social life. We are multilingual, with teachers fluent in English, French, Spanish, Russian, Portuguese and Serbian, and fully certified, with a ratio of two instructors per student to offer more personalized attention.