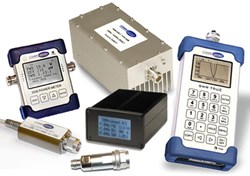 "I'm pleased that we've been able to work out this new long-term mutually beneficial relationship with COMM-connect & look forward to the great opportunities this brings for both companies."
Greenville, NC (PRWEB) July 26, 2013
LBA Group, Inc. announced that its RF marketing and integration division, LBA Technology, Inc., has reached an agreement to become the exclusive distributor of RF test equipment from COMM-connect A/S in North America and South America. LBA will offer an expanded line of state-of-the-art handheld RF analyzers, band filters, RF couplers, signal splitters, wideband and narrow band Low Noise RF Amplifiers and other general purpose RF components. These units facilitate the installation and operation of two-way, broadcast, DAS, LTE and wireless LAN systems in the 30 to 6000 MHz frequency range. COMM-connect is based in Denmark and has been manufacturing high quality RF measurement equipment for more than 25 years.
"I'm pleased that we've been able to work out this new long-term mutually beneficial relationship with COMM-connect and look forward to the great opportunities this brings for both companies," said LBA President and COO Jerry Brown.
Some of the devices now available through LBA are the Type 3013 SWR TRUE Antenna Analyzer for mobile and all band cellular antenna system tuning and trouble-shooting; the Broadcast Power Monitor Type 3025 with 4 channels and Type 3024 Broadcast Power Monitor which can control up to 8 external RF directional couplers for AM, FM, and TV use; and, where a versatile transmission line power analyzer is needed, the Type 3029 RF ONE Wide Band Directional Watt Meter. Also, for a modern version of the traditional VHF – UHF two-way radio power and VSWR meter, many radio communications engineers around the world count on the Type 3030 Land Mobile RF Power Meter.
For more information on the complete line of COMM-connect products from LBA, visit http://www.lbagroup.com/products/test-equpiment or contact Byron Johnson at Byron(dot)johnson(at)lbagroup(dot)com, 252-757-0279.
About LBA
LBA Group, Inc. has 50 years of experience in providing RF asset solutions and risk management for industrial and telecommunications infrastructure assets. The company is comprised of LBA Technology, Inc., a leading manufacturer and integrator of radio frequency systems, lightning protection, and EMC equipment for broadcast, industrial, and government users worldwide; LBA University, Inc., providing on-site and online professional training; and the professional engineering consultancy Lawrence Behr Associates, Inc. The companies are based in Greenville, N.C., USA. Keep up with the LBA companies on Facebook at: http://www.facebook.com/LBAGroup.