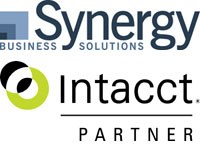 In addition to being a top performer, Synergy is a channel leader. They are a prime example of collaboration... and best practices. ...they have a distinctive implementation methodology that guarantees client satisfaction.
Seattle, WA (PRWEB) July 26, 2013
Synergy Business Solutions announced today it received two coveted awards from Intacct that they bestow on their top-performing partners: Membership in the Intacct 2013 President's Club and the Channel Star Award, given for Synergy's unique contributions to helping clients migrate to Intacct's best-in-class cloud-financial and project-accounting system.
"In addition to being a top performer, Synergy is a channel leader," said Taylor Macdonald, Vice President of Channels at Intacct. "They are a prime example of collaboration with other Intacct partners and execution of sales and marketing best practices. What's more, they have a distinctive implementation methodology that guarantees client satisfaction."
"We are delighted and honored to be recognized with these awards," said Jered Cady, Executive Vice President of Synergy Business Solutions, a leading ERP solution provider in the Pacific Northwest and a nationally recognized project-accounting software implementer. "They are a great endorsement of the hard work our marketing, sales, and consulting staff have put into our Intacct practice."
Synergy joined the Intacct channel program in December 2010. Their expertise in project and cost accounting and as a leading ERP solution provider on the West Coast and beyond has proven to be a valuable asset to Intacct.
About Synergy Business Solutions
Synergy Business Solutions provides comprehensive financial management and project accounting software solutions to a variety of industries including those engaged in project-focused work. Through either Intacct's cloud-based solution or Microsoft Dynamics SL's on-premise or hosted solution, Synergy helps organizations that have outgrown their systems and procedures or identified cumbersome processes, to operate more efficiently while effectively managing projects, resources, time, financials, and growth. Through flexible, integrated, and Web-accessible solutions, Synergy delivers insight, visibility, and control to an organization's managers. Synergy's method of prototyping systems with real company data allows organizations to see how the solution can meet their business needs before they purchase or make a subscription commitment. For more information, visit http://www.synergybusiness.com or call 800-481-8590.
About Intacct
Intacct is the cloud financial management company. Bringing cloud computing to finance and accounting, Intacct's award-winning applications are the preferred financial applications for AICPA business solutions. Intacct applications, in use by more than 6,000 organizations from startups to public companies, are designed to improve company performance and make finance more productive. Hundreds of leading CPA firms and Value Added Resellers offer Intacct to their clients. The Intacct system includes accounting, contract management, revenue recognition, project accounting, fund accounting, inventory management, purchasing, vendor management, financial consolidation, and financial reporting applications, all delivered over the Internet via cloud computing.