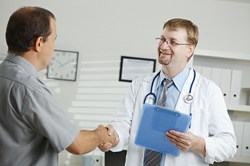 Scottsdale, AZ (PRWEB) July 25, 2013
August is National Immunization Awareness Month, a time to highlight the need for improving national immunization coverage levels.
It's also the perfect occasion to improve the well-being of your healthcare center's marketing program.
"Healthcare centers and clinics that offer immunizations and vaccinations provide a vital service to the community," said Bob La Loggia, CEO of Appointment-Plus medical scheduling software.
"And a key to ensuring that citizens are made aware of your services is through effective marketing."
Here are four tips to help connect with patients:
1. Create a seasonal marketing calendar.
Certain immunizations are seasonal, such as those for children returning to school and flu shots during the winter months. Take advantage of these by preparing a marketing calendar that specifically states when to begin promoting your services.
2. Promote your immunization services on social media.
Your social media "fans" want timely and relevant information. This makes Facebook, Twitter and other pages perfect spots to post details on upcoming immunizations.
"Forty percent of people use social media to find reviews about medical treatments and physicians," said writer Amanda Guerrero in PhysBizTech. "It is no surprise that healthcare organizations of all shapes and sizes are jumping on the social media train, using networks like Facebook and Twitter to promote their services and educate patients."
Make it easy for them to schedule by adding a Book Now button in your message. This allows them to instantly book an appointment time in your online scheduling software.
3. Add a monthly vaccination section to your patient newsletter.
Let patients know about current and upcoming vaccination schedules in your patient newsletter. Include a monthly section that lists details, pricing and how to schedule an appointment.
4. Promote your immunization services on your Web site.
Make the information readily available to both current patients and new Web site visitors. Place details prominently on your homepage.
Learn how Appointment-Plus can improve your healthcare center. Click here to schedule a free guided tour. Call 800-988-0061.
#
About Appointment-Plus: Over 16 million people use Appointment-Plus. It's the leading scheduler for healthcare centers that provides patient self-scheduling, reminder notifications that reduce no-shows by 70 percent, and robust analytics. The software syncs with Outlook Calendar.
For media and bloggers: If you're interested in interviewing an executive to learn more about Appointment-Plus, please e-mail us at erichard at appointment-plus dot com. If you're a blogger interested in sharing stories and guest articles, please contact us at the above e-mail.