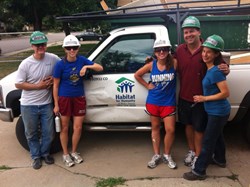 Habitat for humanity is an amazing organization that truly makes a difference not only in the lives of the homeowners, but also in the neighborhoods where the homes are located - Carl Fitch, CEO of Statêra
Englewood, CO (PRWEB) July 26, 2013
Statêra, "We Make Cloud and IT Services Easy™," participated in constructing a house for Habitat for Humanity of Metro Denver on Saturday, July 13th in Adams County. Statêra's team of five volunteers helped to paint a Habitat for Humanity of Metro Denver home located at 10801 Blue Jay Lane in Northglenn, CO. A Habitat construction supervisor provided task lists and instructions on how to efficiently complete these in a logical, fun and safe manner. Habitat for Humanity builds homes in Denver, Adams, Arapahoe, Douglas, and Jefferson counties in Colorado.
"Having the opportunity to help truly hardworking families turn houses into homes is one of the most rewarding experiences," said Andrea Fitch, Statêra's Marketing Manager. "I'd do it again in a heartbeat!" Andrea enthused.
"Habitat for humanity is an amazing organization that truly makes a difference not only in the lives of the homeowners, but also in the neighborhoods where the homes are located," began Carl Fitch, CEO of Statêra. "By empowering families through home ownership, Habitat for Humanity is transforming the greater Denver area for the better," Carl concluded.
About Habitat for Humanity of Metro Denver:
Habitat for Humanity of Metro Denver is part of a global, nonprofit housing organization that seeks to put God's love into action by building homes, communities and hope. Habitat is dedicated to eliminating substandard housing locally and worldwide through constructing, rehabilitating and preserving homes; advocating for fair and just housing policies; and providing training resources to help families improve their housing. Habitat was founded on the conviction that everyone deserves a simple, durable place to live in dignity and safety, and that decent shelter in decent communities should be a matter of conscience and action for all. Habitat for Humanity of Metro Denver has built more than 500 homes throughout its 34-year history in Denver. For more information, please visit http://www.habitatmetrodenver.org.
About Statêra
Statêra is a leading IT services provider that helps companies to optimize performance by mapping strategic goals and objectives to IT initiatives. With over a decade of experience, Statêra leverages best practices and uses today's top technology solutions to provide powerful insight into your enterprise, solve your mission-critical problems, drive return on investment and transform your business. We are experts in moving our clients to the Cloud, CRM, web and mobile platforms, and collaboration software, as well as custom software applications development. Our IT services, IT project management, strategy consulting and managed cloud services brokerage balance people, processes and technology to get your technology needs met on time and on budget. Headquartered outside of Denver, Colorado, Statêra has local offices in Dallas, Texas; Phoenix, Arizona; Salt Lake City, Utah; and Seattle, Washington, and clients worldwide. Call us at 1.866.697.0266 or visit http://www.Statera.com.