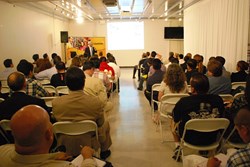 this is something new to me and I am aware of how important it is to use social media for my business to be seen. What I learned today was not to be afraid of technology, even when you do not exactly comprehend it
Los Angeles, CA (PRWEB) July 26, 2013
Most of the attendees to Su Socio de Negocio's breakfast series this past Wednesday July 24th, raised their hands when asked if they had Facebook and Twitter accounts; the goal was to learn how to apply these sites to improve their businesses and make profit.
Diego Cardenas, technology expert and founder of Compuhombre® blog, was in charge of presenting this topic in front of the eager audience that took part of this event organized by El Clasificado in hand with Su Socio de Negocios. The technologist talked about other digital tools that are not being as valued as they should such as Google+, Yelp and Foursquare.
Ricardo Magdaleno, from Magdaleno Financial Services, said he would like to learn more, "this is something new to me and I am aware of how important it is to use social media for my business to be seen. What I learned today was not to be afraid of technology, even when you do not exactly comprehend it."
Miguel Bautista, attendee working in the income tax field, thought the topic was presented in a quickly manner "but I know is due to it being a broad subject. We are hungry for knowledge and want to take advantage of social media sites, however since we are not familiar with the topic we need a bit more explanation," said Bautista.
Karina Rodriguez, Aflac insurance representative, said that although her company has a strong presence in diverse social media sites, the conference helped her remember some of the most basic and important things like the way to communicate with her Hispanic costumers.
Kaiser Permanente, Southern California Gas Company and University of Phoenix sponsored the event. The next Su Socio de Negocios Expo will be held on Wednesday October the 2nd, 2013.
About Su Socio de Negocios and El Clasificado
"Su Socio de Negocios" is a series of events and expos in Spanish that El Clasificado debuted in 2006. El Clasificado, an EC Hispanic Media, is a multi platform media company that connects connects buyers and sellers in the Hispanic community. The 2013 Su Socio de Negocios calendar of events includes three expos and three breakfast seminars in different cities of California.
The El Clasificado print magazine has a verified weekly circulation of 510,000 that reaches 1.5 million weekly readers and is distributed from Fresno to San Diego and most recently to Yuma, Arizona.
EC Hispanic also owns and operates elclasificado.com, which reaches 15 million monthly page views and susocodenegocios.com, which offers Hispanic small business owner's information on how to grow their business.