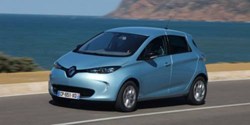 Renault will unveil a fresh concept vehicle at the upcoming Frankfurt Motor Show
San Jose, CA (PRWEB) July 25, 2013
Renault to Unveil New Concept Car in Frankfurt
French automaker Renault has revealed that it will show a new concept vehicle at the upcoming Frankfurt Motor Show, but no other details have been forthcoming from corporate spokespersons. Whether the concept is a hybrid, combustion, electric, or fuel-cell is anyone's guess, but the carmaker known for its trendy, cutting-edge electric vehicles will have plenty else to display at the world's most prestigious expo. For the complete story, see: http://www.myperfectautomobile.com/auto-show-2/renault-concept.html
Brammo, Zero Dominate in Major Race
Brammo and Zero electric motorcycles dominated the FIM eRoad Racing competition last weekend at Laguna Seca's Mazda Raceway during MotoGP weekend. After several riders went down and subsequently dropped out, Eric Bostrom, riding a Brammo Empulse RR, took first place, followed by Kenyon Kluge riding a Zero S. Besides being a competitor, Kluge is Zero's director of electrical engineering. The famed 'corkscrew' section of the raceway was the location of a crash during the contest. Be-Ev.com's Jeremiah Johnson won third place. For the complete story, see: http://www.myperfectautomobile.com/racing-2/electric-motorcycle-3.html
Honda Fit Hybrid Ready for 2015
Honda Motor Co. this week released images of the its newly designed Fit. The Japanese carmaker will include a hybrid version of the Fit in the lineup for the first time. Some sources claim another new family member will be a six-speed manual. The fresh design from Honda will feature a four-cylinder, 1.5-liter power train and a CVT transmission. Plans also call for SUV Honda models that are derived from the latest Fit designs. For the complete story, see: http://www.myperfectautomobile.com/honda/honda-fit-hybrid.html
About MyPerfectAutomobile:
MyPerfectAutomobile (MPA), a California-based news source for the hybrid, electric, and alternative-fuel transportation sector, covers breaking news on the green car front.
The MPA flagship website has grown into a major presence on the Internet. It features a complete shopping mall as well as a free-to-list classifieds section for all things green. For advertisers, MPA offers the chance to be in front of over 20,000 readers each month who are interested in hybrids and electric vehicles, as well as sustainable transportation in general.
Bob Twaalfhoven: President and Founder of MPA, is an MIT-educated engineer whose primary interest is planetary sustainability.
Larry Judkin, General Manger and Sales Coordinator, has tasked himself with taking MPA to the number-one spot among green transportation websites.
MPA's offices are located at 307 Orchard City Dr., Suite 210, Campbell, Calif. 95008.
For advertising opportunities, contact MPA directly: Phone: 408-963-6427 Fax: 408-963-6730 Email: driven(at)myperfectautomobile(dot)com