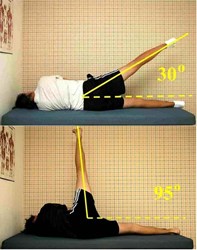 Somax athletes often improve their flexibility 300% beyond what they can achieve from stretching alone.
Tiburon, CA (PRWEB) July 27, 2013
Somax Performance Instutute (http://www.somaxsports.com), the world leader in improving sports performance, offers a new four-year paid apprenticeship program in videotaping, measuring, analyzing and improving sports performance for six college graduates. Graduates of this paid four-year program will be able to earn the equivalent of a doctor or lawyer with a four-year graduate degree--but without the additional college debt.
The Somax Sports Performance Specialist apprenticeship program includes instruction in videotaping and measuring efficiency in running, golf, tennis, baseball, football, soccer, swimming (all four strokes), football and basketball. Students will also be taught how to photograph, measure and improve the 20-30 ranges of motion critical to each sport and to teach Somax proprietary drills to improve motion efficiency.
Somax trained athletes have won 44 Gold Medals, set 11 World Records, won the US Golf Open as a rookie, improved their tour putting from #113 to #1, quadrupled their tour income, and increased their longest drive from 295 to 400. Baseball players have improved their bases stolen from 14/15 to 32/33, increased their long ball from 400 to 480 feet, and their salary from $500K to $1.75 million. Runners usually cut a minute per mile off their running pace, and tennis players have increased their forehand speed from 55 to 97 mph. Somax client athletes typically pay $21-$42,000 for their 60-120 hour sports training sessions.
Included in the paid four-year apprenticeship program will be instruction in Microfiber Reduction, a proprietary form of connective tissue massage developed by Somax to improve flexibility in athletes far beyond what stretching alone can do. Microfiber Reduction is the only means to reverse age-related stiffness in masters athletes.
Pay is $40,000/year with the possibility of a $5-$10,000 bonus/year for exceptional work.
Applicants for this paid apprenticeship program must paste a chronological resume with telephone references of their past three employers or instructors into an email addressed to bprichard(at)somaxsports(dot)com No attachments.
Also, no tatoos, body piercings or dyed hair. Those who voted for Obama need not apply.
These six apprenticeships are for non-athletes who like sports, enjoy working with their hands, enjoy working with people, and have excellent analytical skills. Extensive travel will be required to work with Somax clients in the US, Europe and the Far East during the four years.
Deadline for applications is August 15, 2013.
Contact:
Bob Prichard
Somax Performance Institute
Tiburon, CA
415-435-9880
bprichard (at) somaxsports.com