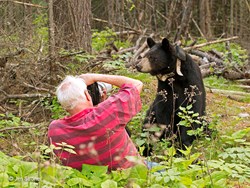 It isn't right to end this research now when modern technology is allowing us to learn directly from the bears themselves.
Ely, Minn. (PRWEB) July 26, 2013
It's a story that thousands of people around the world are following.
Since Lily the black bear gave birth to Hope in a remote wilderness den via live webcam in 2010, scientists and many of us are seeing intimate wildlife moments never seen before.
Now at stake is the long term study of black bears by Wildlife Research Institute biologist Dr. Lynn Rogers. The Minnesota Department of Natural Resources last month refused to renew Rogers' permit to radio-collar bears and install webcams in dens.
After a meeting with Minn. Gov. Mark Dayton failed to resolve the dispute, Rogers filed a lawsuit asking for a temporary restraining order against the DNR which would allow research to continue. Without such an order, radio collars must be removed from 10 study bears by July 31st. Removal of the collars has dire consequences.
"When all the good food in the woods wanes during hunting season, the study bears might go to hunters' baits the same as other bears do," Rogers said.
"Without radio-collars, June, Lily, Faith, Juliet, and the others could be shot unknowingly by hunters who would spare radio-collared bears. We couldn't stand by and let that travesty play out. We need an injunction and a thorough, fair investigation."
The study bears have gained an educational following in classrooms and living rooms around the world since Lily give birth to Hope in January 2010 via live webcam. Renowned as the 'Jane Goodall' of bear research, Rogers names the bears as Goodall does chimpanzees to track the research.
The DNR stated its decision to end the WRI Permit was final, but notified Rogers in mid-July that "it would allow an administrative review", likely to take up to nine months.
Rogers and fellow biologist Sue Mansfield know time is critical. The researchers have kept an estimated quarter-million world-wide supporters updated through daily updates on the WRI blog at http://www.bearstudy.org
Rogers and Mansfield say they'd rather be in the field and publishing their research than having to go to court.
"We know the allegations the DNR is making and their relentless attempts to sway the public," said Rogers. "We know the public safety risk here is no greater than with household chores or driving down the street. No radio-collared bear has ever attacked anyone in our four decades of study. Facts will tell the truth."
Rogers is responding to DNR accusations that WRI research techniques have led to bears feeling more comfortable around people. Researchers know that's not true. Study bears remain wild, preferring to avoid human contact. Current DNR officials have never visited the Ely-based WRI research station or its associated North American Bear Center.
"It isn't right to end this research now when modern technology is allowing us to learn directly from the bears themselves," Rogers said. "Den cams and radio-collars are giving us close up views into the hidden lives of black bears. Scientists are learning right alongside students and everyone. With more people moving into bear country, this education has never been more important."
The world's most comprehensive study of black bears began over 40 years ago when Rogers founded the non-profit research and educational Wildlife Research Institute focusing on the observational field study of black bears. Since 1999, the DNR has granted Rogers a special research and education permit.
The WRI has a strong, professional record of publishing in peer-reviewed scientific journals, including numerous publications as listed in the pending lawsuit.
There has been an outpouring of support for the WRI research in the past week. A legal fund has been set up. Thousands of people have signed petitions, written government officials and the media. There was a 'Rally For Bear Research' this week as the researchers met the governor. What is striking is the support from all over the globe.
The Internet and television documentaries such as the BBC series 'Planet Earth Live' have brought the intimate lives of the research bears into our schools and homes. People are learning that black bears are mostly shy, gentle family-bonded animals, rather than the ferocious 'Hollywood' stereotype.
A woman from Spain who traveled to Ely had this to say: "We are all citizens of the world. Bears deserve to be globally respected, our wildlife was here first. The WRI research is guiding peaceful coexistence in our increasingly crowded world. Education is paramount."
The court hearing before Judge John Guthmann is scheduled for 9 a.m. Monday, July 29th in the Ramsey County Courthouse in downtown St. Paul.
For more information:
Daily updates: Wildlife Research Institute: http://www.bearstudy.org
North American Bear Center: http://www.bear.org
Friends of Wildlife Research Institute: http://www.friendsofwri.com
Video clip (1-min): Lily's cubs - https://www.youtube.com/watch?v=rwJn-buXxxw
Videos available at: http://www.youtube.com/bearstudy
WRI Legal Fund: http://www.bearstudy.org/website/index.php
Rogers v MN DNR (#62-CV-13-5408)
http://www.bearstudy.org/website/images/stories/Documents/2013_07_23_Summons_and_Complaint_Rogers_v_MN_DNR-c.pdf
For more information, contact:
WRI/NABC Media Relations Director Bev Hauptli: MediaRelations(at)bear(dot)org